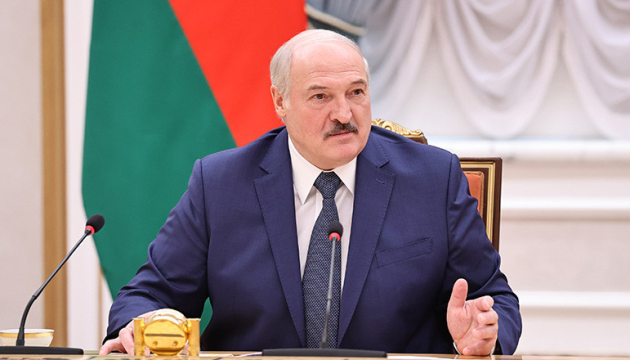 Lukashenko vows to "never do harm" to Ukraine unless Kyiv attacks first
Alexander Lukashenko has claimed Belarus will "never harm" Ukraine if the latter does not point its weapons toward his country.
He also said during his annual big press conference, in passing, that Russia would never come to Ukraine from the Belarusian territory, "especially wielding weapons," according to Ukrinform.
"As for the invasion. You (Ukraine – ed.) should be the least afraid of Belarusians. We will never do harm to Ukraine unless – we can already talk about it today –you come to our land with weapons," Lukashenko said.
At the same time, he accused President of Ukraine Volodymyr Zelensky of training "militants" to fight against Belarus: "Okay, you (President Volodymyr Zelensky – ed.) ran following the West, you supported them, you spat on everything. But why are you training militants on the Ukrainian territory and smuggling weapons into (our country – ed.)?"
Lukashenko also said in passing that Russians would invade Ukraine from Belarus.
Background
Today in Minsk, on the anniversary of the presidential election and the start of mass protests, the so-called "Big Talk with the President" is taking place, where Lukashenko is speaking with journalists and public.
A year ago, numerous violations were registered in the presidential election in favor of Alexander Lukashenko, who had been ruling for the past 26 years. Ultimately, CEC chief Lidia Yermoshina announced that Lukashenko won with 80.1% of support, while his closest rival Svetlana Tikhanovskaya sealed just 10.1% of the vote. Tikhanovskaya decried the election outcome, calling the vote out as rigged.
Mass protests broke out across the country, which were brutally suppressed by authorities. Multiple reports came in about the victims of police violence in custody. This provoked a new wave of protests.
On August 14, opposition forces created a so-called Coordination Council, inviting anyone who did not recognize election results to join.
On October 12, the Coordinating Council demanded that the "illegitimate" president end repression, release those arrested, and resign as head of state by October 25.
After Lukashenko's refusal to comply with opponents' demands, a number of enterprises saw their workers go on strike. However, several months into the start of protests, the entire movement was suppressed.
On September 1, the Office of the United Nations High Commissioner for Human Rights reported 450 documented cases of torture and ill-treatment of held persons.
By the end of 2020, the Vesna rights center had collected a thousand documented evidence pieces testifying to torture episodes. There are more than 600 political prisoners remaining behind bars across the country.
im