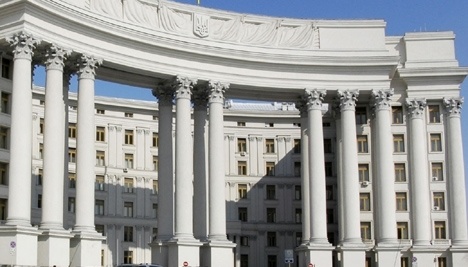 Ukraine almost halves number of diplomatic staff in Russia since 2014 – Foreign Ministry
Ukraine has almost halved the number of diplomatic staff in Russia since the start of Russia's armed aggression in 2014.
State Secretary of the Ministry of Foreign Affairs of Ukraine Oleksandr Bankov said this in an interview with Glavkom online media outlet.
"Some 37 employees are [working] in all Ukrainian diplomatic missions in Russia. In 2013, our embassy in Moscow alone employed about 60 people. Maybe even more. After the beginning of Russia's armed aggression, the number of our diplomats in Russia has almost halved," Bankov said.
He also informed that 69 Russian diplomats are currently working in Ukraine.
According to Bankov, after the start of the war in eastern Ukraine, the Foreign Ministry, in addition to reducing staff, recommended that the diplomats take their families out, which was done.
As Ukrinform reported, on April 27, the Ministry of Foreign Affairs of Ukraine declared a consul of the Consulate General of the Russian Federation in Odesa persona non grata in Ukraine in response to the April 26 decision by the Russian Foreign Ministry to declare an employee of the Ukrainian Embassy in Moscow persona non grata.
On April 19, Ukraine announced the expulsion of a counselor of the Russian Embassy in Kyiv, Yevgeny Chernikov, after the detention by Russia's Federal Security Service (FSB) and the expulsion of a consul of Ukraine's Consulate General, Oleksandr Sosoniuk, allegedly for receiving confidential information from the databases of law enforcement agencies and the FSB.
ish