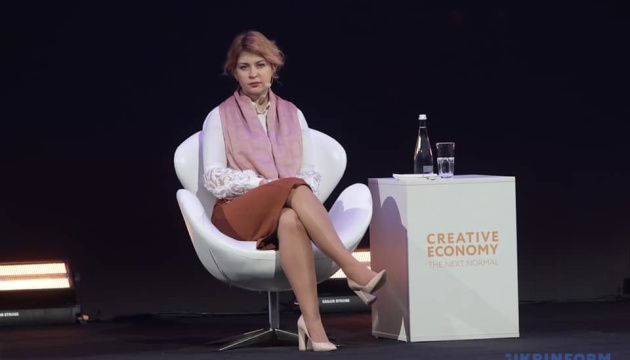 Ukraine intends to join process of developing EU Green Deal policies - Stefanishyna
Ukraine has already decided to build a dialogue on the European Green Course and to engage in its policies' development.
Deputy Prime Minister for European and Euro-Atlantic Integration Olha Stefanishyna stated this during a meeting of the Verkhovna Rada Committee on Environmental Policy and Nature Management, the Government portal reports.
"Ukraine cannot stand aside from the European Green Deal, as its goal is to synchronize national legislation with European laws and participate in the EU policy-making process. This is important not only to minimize the threat of new barriers to trade but also to use all the opportunities of the new economic and environmental paradigm that Ukraine can get as the largest neighbor of the European Union," said Olha Stefanishyna.
According to her, along with the desire to achieve the goal of a climate-neutral European continent, Ukraine is strongly and systematically promoting its national interests. Negotiations are currently underway on the non-application of carbon regulation towards imports, the launch of an "industrial visa-free regime" and the liberalization of the preferential trade regime. For its part, Ukraine is already contributing to the implementation of the European Green Deal through the adoption of a law on inland water transport and the promotion of a bill on waste management.
"This legislation is based on better European regulation, so its adoption and implementation is Ukraine's contribution to combating climate change and effective waste management," said Olha Stefanishyna.
The European Green Course is a roadmap of actions that will transform the EU into an efficient, sustainable and competitive economy. Identifying means of transforming Europe into the world's first climate-neutral continent by 2050, it will stimulate economic development, improve health and quality of life, and transform climate and environmental challenges for opportunities in all areas and policies of the EU, ensuring a fair and inclusive nature of green transition.
The European Green Deal was officially presented by European Commission's President Ursula von der Leyen to the European Parliament on December 11, 2019.
The key areas of the Green Deal are biodiversity, sustainable agricultural policy (From Farm to Fork Strategy), clean energy, sustainable industry, construction and renovation, sustainable mobility, pollution reduction, climate action.
iy