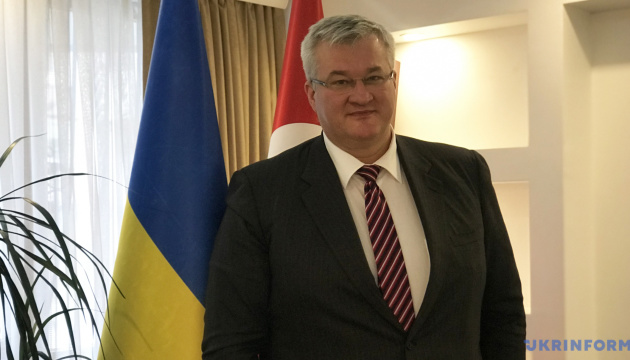 Ministers of Ukraine and Turkey to meet in Kyiv in 'quadriga' format
On Friday, December 18, a Ukraine-Turkey meeting in "quadriga" format will take place in Kyiv as the foreign ministers and defense ministers of the two countries will gather.
"The term 'quadriga' stands for 2+2 format meeting (foreign ministers and defense ministers of Ukraine and Turkey). The launch of this format was approved by the Presidents during a recent meeting in Istanbul. And during his visit to the Republic of Turkey, Minister Dmytro Kuleba agreed on the date of the event - Kyiv, December 18," Ambassador Extraordinary and Plenipotentiary of Ukraine to Turkey Andrij Sybiha, who arrived in Kyiv to take part in the meeting, posted on Facebook.
In addition, during the visit of the Turkish delegation, Foreign Minister of Turkey Mevlüt Çavuşoğlu will address the Conference of Heads of Foreign Diplomatic Missions of Ukraine with the participation of ambassadors, permanent representatives and consuls general of Ukraine abroad, which will be held online.
On October 16, President of Ukraine Volodymyr Zelensky and President of Turkey Recep Tayyip Erdoğan met in Istanbul and signed a number of bilateral documents. In particular, Defense Minister of Ukraine Andriy Taran and National Defense Minister of Turkey Hulusi Akar signed a framework military agreement between the governments of Ukraine and Turkey.
On December 14, the Ministry of Defense of Ukraine concluded first-ever direct foreign economic contacts for military goods. Defense contracts with Turkish companies were signed by Defense Minister Andriy Taran.
ol