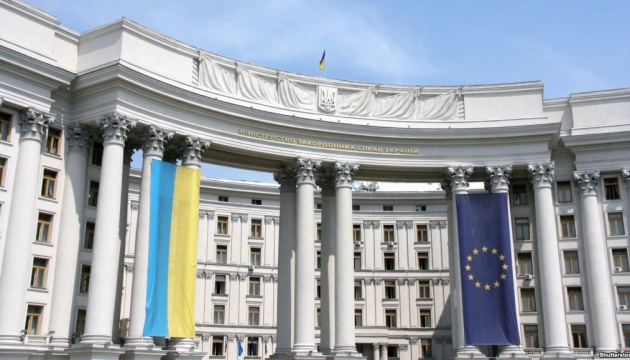 MFA: Open Skies Treaty should be in force within entire sovereign territory of Ukraine
Within the framework of the 4th Review Conference for the Open Skies Treaty, Ukraine underscored the need to restore the scope of Treaty's application within its entire sovereign territory.
"At the 4th Review Conference in Vienna on October 7-9, 34 parties to the Open Skies Treaty summed up the implementation of the Treaty for the period from 2015 to 2020," reads the commentary of the Ministry of Foreign Affairs of Ukraine.
As noted, this five-year period of implementation of the Open Skies Treaty proved to be the most critical due to the steady downsizing of its scope of application. To date, the territories of Ukraine and Georgia with a total area of over 57,500 sq km, which are currently occupied by the Russian Federation, have been removed from the treaty's scope. In particular, the area of the temporarily occupied territories of Luhansk and Donetsk regions, the Autonomous Republic of Crimea and the city of Sevastopol (Ukraine) is 44,000 sq km.
"Within the Conference, Ukraine pointed to the need to restore the scope of ​​application of the Open Skies Treaty within its entire sovereign territory through de-occupation and restoration of Ukrainian Government's control over the territories temporarily occupied by Russia, withdrawal of Russia's weapons and troops. Moreover, Ukraine called on all Open Skies Treaty parties to step up pressure on Russia for restoration of the Treaty's scope of ​​application within the internationally recognized borders of Ukraine and Georgia," the statement reads.
The MFA assured that Ukraine remains committed to the Open Skies Treaty, the participation in which corresponds to its national interests, amid counteracting the armed aggression of the Russian Federation.
"Conducting joint observation flights with partner countries, exchanging data on their results, and using a specialized Ukrainian An-30B aircraft for NATO observation missions is an important area of practical cooperation and interoperability between the armed forces of Ukraine and the Allies," Ukrainian diplomats emphasized.
The Open Skies Treaty is an important effective legally binding international agreement in the field of arms control.
In 2015-2020, Ukraine conducted 50 observation flights and hosted 53 observation missions.
ol