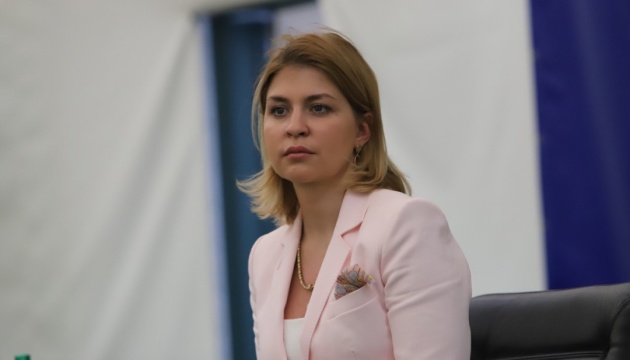 Vice PM Stefanishyna: Ukraine seeks broader participation in shaping Black Sea region security
Ukraine seeks greater participation in shaping the security of the Black Sea region and will be able to play a more active role in this process thanks to its NATO EOP status.
Vice Prime Minister for European and Euro-Atlantic Integration of Ukraine Olga Stefanishyna made a corresponding statement at the online meeting of the Center for European Policy Analysis Forum, Government portal informs.
The Vice Prime Minister noted that the occupation of Crimea by the Russian Federation had led to the loss of 70% of Ukraine's maritime assets. Currently, Ukraine is rebuilding its naval fleet, in particular by building new bases, with the support of international partners
"Security in the Black Sea, Crimea is not only an issue of Ukraine's national interests but also an issue of security for the entire region, which is given a priority on NATO's agenda. With the support of our international partners, we work to restore the Ukrainian fleet, invest in strengthening its capabilities and capacity," Stefanishyna said.
The Vice Prime Minister reminded that Sea Breeze 2020 naval exercises had taken place in Ukraine this July, where 26 ships and 19 aircraft of eight allies and partners (Bulgaria, Georgia, Norway, Romania, Spain, Turkey, Ukraine, and the USA) held air defence, submarine warfare, damage control and search and rescue training.
According to her, joint exercises with NATO member states are a strong signal that partners support the Ukrainian military in face of daily threats to the Black Sea region security even despite such global challenges as the coronavirus crisis.
"Having NATO EOP status, Ukraine will be able to play a more active role in shaping the security of the Black Sea region and sharing our unique experience in countering hybrid threats," Stefanishyna said.
The Ukrainian official also called for an increased presence of partners in the Black Sea and Ukraine's involvement in NATO member states' security measures.
The annual CEPA Forum is a leading conference on transatlantic security, with the participation of American, Central and Eastern European politicians. The forum brings together more than 400 government and business decision-makers, as well as security and policy experts. Participants will discuss the most pressing issues and challenges NATO faces today. This year's Forum focuses on the future of Europe amidst growing threats to democracies posed by new digital technologies and geopolitical competition.
ol