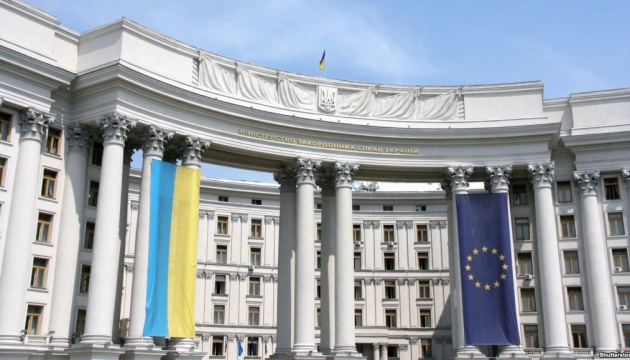 Foreign Ministry expresses protest over conviction of Ukrainian citizen Kashuk in occupied Crimea
The Ministry of Foreign Affairs of Ukraine expresses its protest to the Russian Federation over the unlawful judgment of a "court" in the territory of the occupied Autonomous Republic of Crimea which sentenced citizen of Ukraine Denys Kashuk to 3 years and 8 months in prison on trumped-up charges of purchase and storage of explosives.
"The occupation authorities deprived Kashuk of a proper right to defense, in particular, allowed an independent lawyer to familiarize with the case files only at the stage of the court hearing and also exerted psychological pressure on the detainee in the form of threats against his relatives. As a result of such threats, some family members were forced to leave the occupied peninsula," the Foreign Ministry's press service informs.
"We regard such actions of the occupation authorities of Crimea as a continuation of political repression against the citizens of Ukraine who live under the occupation," the statement reads.
The Foreign Ministry also underscores that the occupation authorities deliberately take steps that seriously endanger the life and health of Ukrainian citizens amid the rapid spread of COVID-19 virus, the lack of adequate medical protection in the occupied territories and the associated peculiar epidemiological vulnerabilities in Russian prisons.
"Ukraine demands to ensure in full force and effect the right to life and access to medical care for illegally imprisoned Ukrainians, to ensure unhindered and safe access for international monitoring missions, the International Committee of the Red Cross to the temporarily occupied territories and illegally detained Ukrainian citizens for the purpose of qualified medical examination and treatment," the Ministry notes.
ol