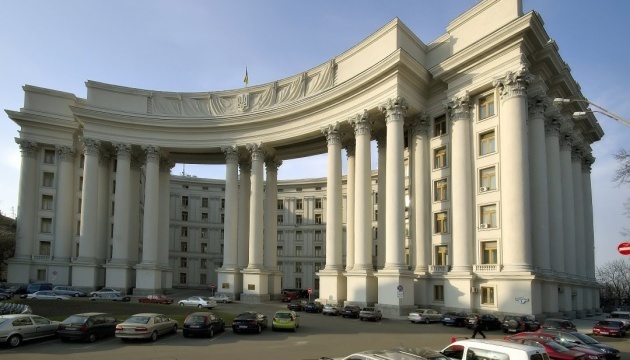 Ukraine calls on global community to tighten sanctions over Putin's decree on land in Crimea
The Ministry of Foreign Affairs of Ukraine condemns the signing of the decree of the President of Russia, No.201, which grants only Russians the right to own land in occupied Crimea.
"The signing of the decree is another illegal step of Moscow to the appropriation of a piece of Ukrainian state and private property in the territory of the illegally occupied Crimea, a gross violation of Ukrainian law and international humanitarian law," the Foreign Ministry's press service reports.
Ukraine uses all the possibilities of international law and international institutions to repeal the decree and hold Russia accountable for this offense, the ministry noted.
The Ukrainian Foreign Ministry also called on the international community to continue to increase pressure on the aggressor state, including through the imposition of sanctions.
As reported, on March 20, Russian President Vladimir Putin signed a decree that includes practically the entire territory of the annexed Crimea to the list of territories where the land plots can be owned only by citizens of the Russian Federation.
The U.S. Embassy in Ukraine said that this decree reinforced the basis for international sanctions.
ish