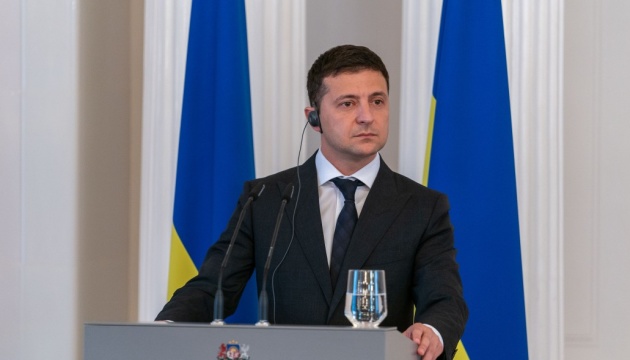 Zelensky sees no need to link Donbas and gas issues
Ukrainian President Volodymyr Zelensky has said he clearly divides the issue of gas transit and negotiations on Donbas, but does not rule out the inclusion of the gas issue in the agenda of a Normandy Format meeting.
He said this in an interview with German magazine Spiegel.
"For me, it is important that the gas issue is an issue in itself. No matter what the wishes of both sides, it must not be connected in any way with Donbas. However, I do not rule out that gas transit will also be addressed in the Normandy Format," Zelensky said.
The president acknowledged that Nord Stream 2 had significantly weakened Ukraine's negotiation positions on extending gas transit. Zelensky disagreed with European partners' claims that it was not a political but an economic project.
"However, if we succeed in closing a new transit treaty for up to ten years, if the Europeans help Ukraine here and Russia does not oppose it, then the argument that Nord Stream 2 is not a political project will make sense. So far, it is an assertion without any basis," Zelensky said.
A meeting in the Normandy Format is to take place in Paris on December 9. The meeting will be attended by the leaders of four countries: Ukraine, Russia, France, and Germany. It will be the first meeting between Volodymyr Zelensky and Vladimir Putin.
A key issue on the agenda is resolving the conflict in Donbas.
The last such meeting at the level of the leaders of the states took place in Berlin on October 19, 2016. Its participants acknowledged that there was been no breakthrough in the settlement of the conflict in Donbas.
Naftogaz's gas transit contract with Gazprom expires on December 31 this year. Ukraine insists on the signing of a long-term contract for the extension of gas transit.
op