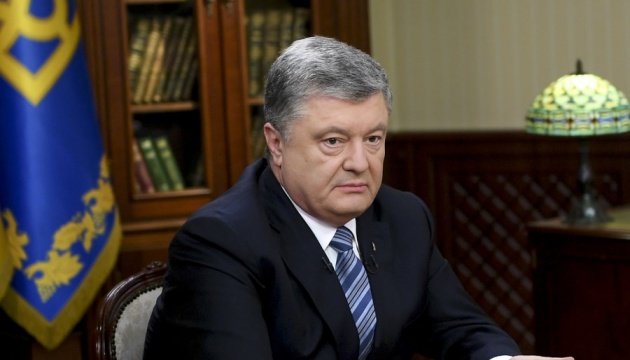 Poroshenko explains when referendum on Ukraine's joining EU may be held
A referendum on accession to the EU may be held only when an issue of the need to delegate part of Ukraine's sovereign powers to the union is raised.
"There are certain concerns about a possible change in the path of Ukraine and not only at the level of European leaders. If Ukraine stops and raises the issue of developing our European and Euro-Atlantic integration depending on what the Kremlin says, or we delay it somehow through a referendum… The referendum will be held when the European Union doors are open and Ukraine delegates part of its sovereign powers to the EU. As each country, claiming to become a member of the European Union, did," President of Ukraine Petro Poroshenko said upon the meeting with President of France Emmanuel Macron, an Ukrinform correspondent reports.
He noted that suspension of the process of European and Euro-Atlantic integration of Ukraine now would be unconstitutional.
"Nobody, no official has the right to violate the Constitution and stop this process," the President underscored.
Petro Poroshenko stressed that he would do everything in his power to continue the European path of Ukraine. "A great price was paid for this. The sacrifice paid by the Ukrainian people must not be in vain," he said.
ol