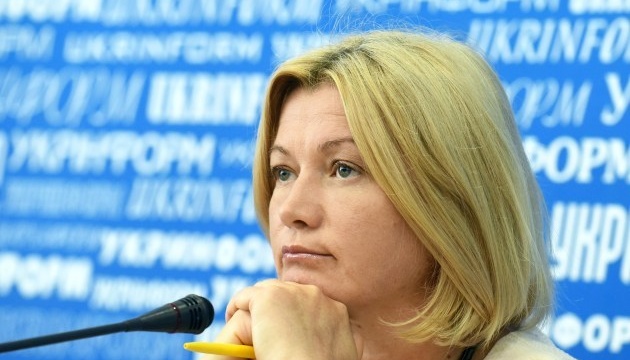 Gerashchenko: Ukraine fulfills all 'Minsk' obligations, Russia – none of them
By extending the law on the special status of Donbas, Ukraine has fulfilled all the obligations of the Minsk Protocol.
The Ukrainian president's envoy for the peaceful settlement of the situation in Donbas, Verkhovna Rada First Deputy Chairwoman, Iryna Gerashchenko, said this at a press conference after the opening of an exhibition of drawings by Ukrinform's journalist Roman Sushchenko, illegally convicted in Russia.
"Ukraine has fulfilled all the clauses of the political block of the Minsk agreements. The Russian Federation has not fulfilled a single clause - either security or humanitarian one ... I believe that the time is now for the whole world, the countries of the "Normandy format", the USA, all our partners from the European Union and the G7 to urge the Russian Federation to release immediately all hostages," she stressed.
Gerashchenko also noted that this decision was necessary to strengthen the negotiating tools of Ukrainian diplomats and international partners of Ukraine.
"I hope that our partners will not only say "well done" to the Verkhovna Rada and the Ukrainian president, but will appeal to the Russian Federation demanding the release of Oleg [Sentsov], Roman [Sushchenko], Stanislav Klykh, Mykola Karpiuk, Volodymyr Balukh and and all other prisoners of the Kremlin, as well as dozens of military and civil Ukrainians who are illegally detained in the occupied Donbas," the vice-speaker said.
As reported, on October 4, the Verkhovna Rada adopted a law that extends the special order of local governance in Donbas until December 31, 2019, inclusive.
ish