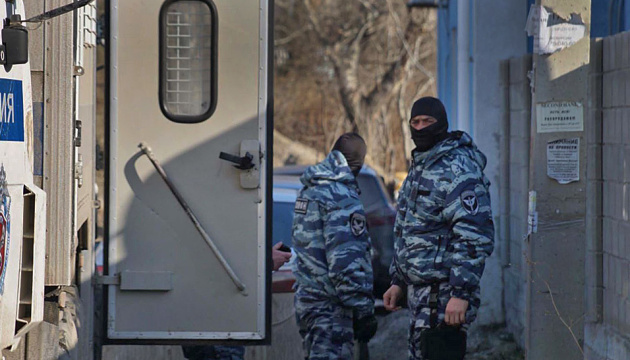 19 raids, 28 detentions, 39 arrests recorded in occupied Crimea this year
According to the human rights monitoring results, 19 raids have been recorded in the occupied Crimea since the beginning of the year, 28 people have been detained, 40 illegal interrogations and 39 arrests have been carried out.
Eskender Bariev, the member of the Mejlis of the Crimean Tatar people, chair of the Crimean Tatar Resource Center, said this at a briefing "Analysis of human rights violations in occupied Crimea for the first quarter of 2018."
"During the first three months, the occupants in Crimea carried out 19 raids, including 12 raids on Crimean Tatars' houses. A total of 28 detentions were recorded, including 14 detentions of representatives of the indigenous people. 40 cases of illegal interrogation, including 22 interrogations of the representatives of the Crimean Tatar people, and 39 arrests, including 28 arrests of Crimean Tatars were recorded," Bariev said.
The denial of the right to a fair trial was the commonest violation of human rights in Crimea as 170 cases were recorded, including 149 against the Crimean Tatars.
In addition, the Crimean Tatar Resource Center estimated that the total sum of fines for pro-Ukrainian activists in the occupied Crimea since the beginning of 2018 amounted to RUR 339,500 rubles (UAH 143,500).
Two cases of violation of right to peaceful assembly, 26 cases of illegal visit to the occupied Crimea, 24 cases of deportation from Crimea and nine facts of illegal military exercises in the occupied peninsula were recorded.
ol