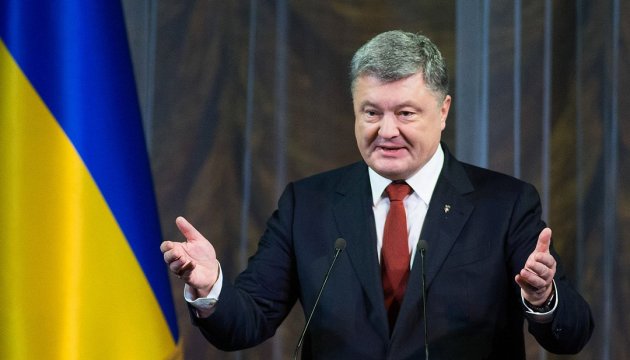 Poroshenko thanks U.S. for 'Kremlin list,' hopes for similar steps by EU
Ukrainian President Petro Poroshenko has thanked the United States for publishing the "Kremlin list" and expressed hope that European partners of Ukraine would make respective decisions on Russia.
"Sincere gratitude to Washington for another demonstration of leadership in countering Russian aggression! We count on respective decisions from our European partners to strengthen the common transatlantic front," Poroshenko wrote on Facebook on Tuesday.
He said that the power of sanctions was becoming stronger and more influential and that the cumulative effect of restrictive measures inevitably and confidently limited appetites of the aggressor state.
"This will continue until the Kremlin finally does not understand the importance of respecting international law, refusing to interfere in the internal affairs of sovereign states and stopping to undermine democratic institutions, as well as until the sovereignty and territorial integrity of Ukraine is fully restored," Poroshenko said.
As Ukrinform reported, on January 29, the U.S. Department of the Treasury presented the so-called "Kremlin list," which includes 114 high-ranking officials and 96 "oligarchs" from Russia. The list includes almost all officials of the presidential administration, members of the government, heads of state companies and major entrepreneurs.
op