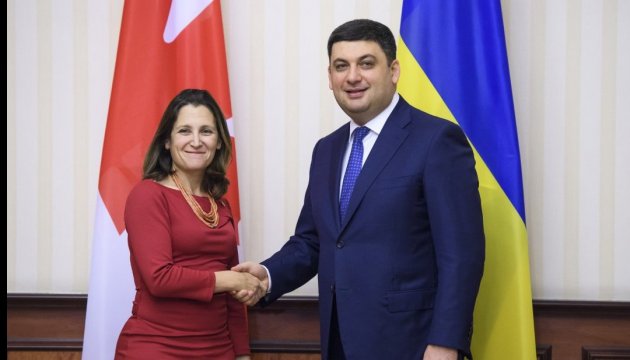 Groysman, Freeland discuss cooperation
Relations with Canada are one of the important issues of the international component of the work of the Ukrainian government, especially in the context of Ottawa's chairmanship of the Group of Seven.
Ukrainian Prime Minister Volodymyr Groysman said this at a meeting with Canadian Foreign Minister Chrystia Freeland on Friday, according to the government portal.
Groysman noted that the agenda for relations between the two countries was extremely extensive. The spectrum of cooperation includes the agricultural sector, aircraft engineering and joint space exploration.
According to him, an important instrument of cooperation is the free trade agreement, which has already helped double mutual trade. "And now we must fully use the potential of the free trade agreement," Groysman said.
Freeland, in turn, offered support to Kyiv. "Relations with Ukraine are also very important to Canada. Canada will preside over the G7, and we will be ready to discuss the Ukrainian issue (its various aspects)," she said.
During the talks, the parties summed up the results of 2017 and recognized the ambition of the plans for 2018. The top priorities include further deregulation and the introduction of a new system of state control, the introduction of new rules for privatization and the first wave of large-scale sale of non-strategic state assets, further cooperation with international financial organizations, primarily the IMF.
According to the press service of the Cabinet of Ministers, in January-September 2017, the trade in goods and services grew by 43%, to $327.6 million. Exports from Ukraine to Canada rose by 24%, to $98.2 million. Ukraine mainly exported to Canada base metals (ferrous metals, copper), machinery and equipment, vehicles, juices, honey, medical devices, etc.
Ukraine is interested in continuing talks on increasing the export of food products, developing cooperation in the sector of production of spare parts and components for the aerospace and aviation industry, and developing the space industry - from new IT solutions to the launch of a new communications satellite, etc.
Canada is interested in continuing to support small and medium-sized enterprises, helping to improve tax and customs procedures, and developing joint projects in the natural gas sector in Ukraine. The Government of Canada is also ready to support the launch of an institution to promote exports in Ukraine in 2018.
op