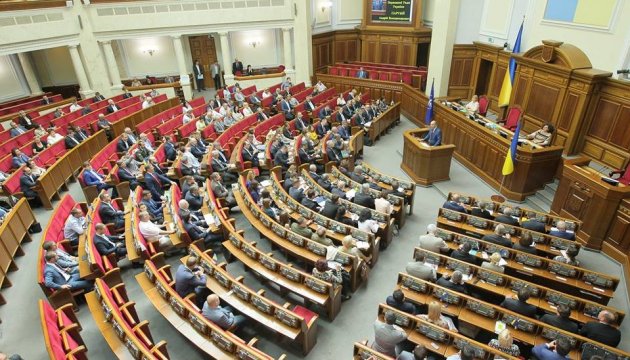 Ukrainian parliament adopts law on Constitutional Court
The Verkhovna Rada, Ukraine's parliament, has adopted the law on the Constitutional Court of Ukraine.
A total of 245 MPs voted for the endorsement of bill No. 6427-d at second reading, an Ukrinform correspondent reports.
The law reforms the organizational structure of the court, in particular, provides for the activity of the court consisting of the Grand Chamber, two senates and six panels. The head of the Constitutional Court, according to the document, is elected from Constitutional Court judges for only one three-year term through secret ballot by submitting ballots. The head of the court is a candidate that wins the most votes of judges.
At the same time, it is planned to leave unchanged the provisions of the current law that the Constitutional Court includes 18 judges of the Constitutional Court.
The Grand Chamber is empowered to consider compliance with the constitution of the acts of the parliament, the president, the Cabinet of Ministers, and the acts of the Supreme Council of the Autonomous Republic of Crimea. The Chamber also officially interprets the constitution and examines the constitutionality of issues that are put forward for a referendum.
The Senate consists of nine judges of the Constitutional Court and considers the constitutionality of the laws of Ukraine and their separate provisions under complaints.
It is envisaged that the panel is composed of three judges of the Constitutional Court. Its powers include the opening of constitutional proceedings under motions, appeals, and complaints.
When discussing the law, MPs criticized the articles of the law that determine the procedure for financing the activities of the court and judges. Thus, the law stipulates that a Constitutional Court judge in retirement receives a monthly life allowance of 50 percent of the remuneration of the current judge.
In addition, the law introduces amendments to other laws, including the law on the Verkhovna Rada commissioner on human rights. At the same time, by its decision, the parliament changed the procedure for electing an ombudsman. The law says that voting is conducted during parliamentary plenary sessions by secret ballot. A number of deputies slammed this provision for the fact that it might eliminate the guarantees of independence and political bias of the commissioner.
op