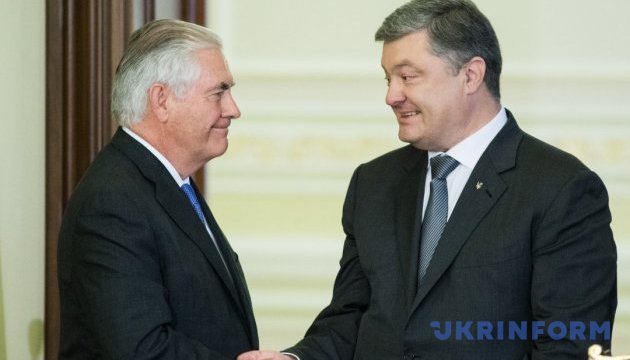 United States wants international cooperation in tackling cyber threats - Tillerson
The United States is interested in international cooperation in tackling cyber threats.
U.S. Secretary of State Rex Tillerson told this to reporters after a meeting with Ukrainian President Petro Poroshenko, an Ukrinform correspondent reports.
"This is a challenge, obviously, for us globally, so Russia is not the only nation that we're going to have to begin to develop some way of how we as an international community are going to deal with what has emerged as an ever more complex issue. And I think the election interference really shows how complicated the use of these types of tools are becoming. We have to find a way to begin to address that, and it's not going to be only about Russia. It's going to be about an international engagement as well," he said.
As reported, Tillerson is on a visit to Ukraine to implement the agreements reached by the presidents of Ukraine and the United States.
In Kyiv, Poroshenko received Tillerson to discuss the strengthening of strategic partnership between Ukraine and the United States and continue coordinating efforts to counter Russian aggression against Ukraine.
The sides also spoke about the implementation of the agreements reached during the visit by the head of the Ukrainian state to the United States on June 20-21.
Tillerson, during his visit to Kyiv, is accompanied by newly appointed U.S. Special Representative for Ukraine Kurt Volker.
op