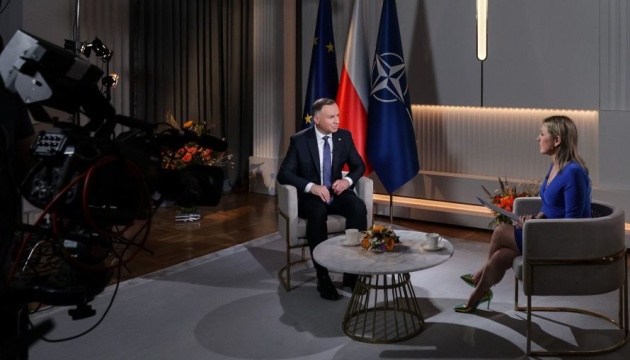 Poland to help Ukraine increase grain transit, special corridors being prepared - Duda
The Polish government's decision to ban imports of Ukrainian grain to the Polish market is correct, but it is necessary to increase the transit of Ukrainian grain to the markets of third countries through Poland.
Polish President Andrzej Duda said this on TVP1 on Sunday, September 24, Ukrinform reports.
"I believe that the decision to ban the sale of Ukrainian grain on the Polish market is correct. Instead, I am convinced that we should do all we can to make the transit as large as possible," Duda said.
According to him, special transit corridors are being prepared, thanks to which Ukrainian grain can be transported through Poland to where it is needed.
"And this export continues all the time," Duda said.
A "grain crisis" is ongoing in relations between Ukraine and Poland. On September 16, Poland, contrary to the position of the European Commission, unilaterally blocked imports of Ukrainian grain (wheat, corn, sunflower seeds and rapeseed) to the domestic market, while maintaining the transit of these crops through its territory.
Ukraine, in turn, filed a complaint with the World Trade Organization against Poland and Hungary. Kyiv does not exclude the introduction of mirror measures in response to Poland's actions.
The two countries' agriculture ministers are expected to meet in the next few days to find a way out of the crisis.
Photo: KPRP