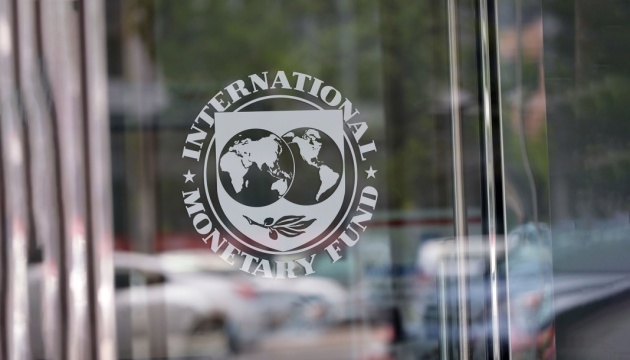 IMF approves $15.6B financing program for Ukraine
The Executive Board of the International Monetary Fund (IMF) at its meeting on Friday approved a new $15.6 billion Extended Fund Facility (EFF) arrangement for Ukraine.
This is said in a press release published on the IMF's website, Ukrinform reports.
"The IMF Board approved a new 48-month extended arrangement under the Extended Fund Facility (EFF) of SDR 11.6 billion (about US$15.6 billion) as part of a US$115 billion total support package for Ukraine," the document reads.
It is specified that the Executive Board's decision allows the immediate disbursement of around SDR 2 billion (or $2.7 billion).
It is noted that this arrangement is part of a $115 billion total support package for Ukraine
Ukraine's EFF program "aims to anchor policies that sustain fiscal, external, price and financial stability and support economic recovery, while enhancing governance and strengthening institutions to promote long-term growth in the context of post-war reconstruction and Ukraine's path to EU accession."
The EFF program envisions a two-phased approach. In the first phase of the program, envisaged during 2023-24, the focus will be on bolstering revenue mobilization, including by avoiding new measures that might erode tax revenues, sustaining steady disinflation and exchange rate stability, including through maintaining adequate foreign exchange reserves. In addition, the focus will be on contributing to long-term financial stability, including by preparing a deeper assessment of the banking sector health and further promoting central bank independence.
The second phase of the program will shift focus to structural reforms to entrench macroeconomic stability, support the recovery and early post-war reconstruction, and enhance resilience and higher long-term growth, including in the context of Ukraine's EU accession goals. Ukraine would be expected to revert to pre-war policy frameworks, principally a flexible exchange rate and inflation targeting, while boosting productivity and competitiveness, strengthening institutions, and tackling financial and energy sector vulnerabilities.
In addition, according to the document, fiscal policies would focus on critical structural reforms to anchor medium-term revenues through the implementation of a national revenue strategy, together with strengthening public finance management and introducing public investment management reforms to support post-war reconstruction.
President of Ukraine Volodymyr Zelensky thanked the International Monetary Fund and its head Kristalina Georgieva for approving the new four-year support program for Ukraine.
"I'm thankful to the IMF and Kristalina Georgieva for approving a new four-year support program for Ukraine for the total of $15.6 billion," Zelensky wrote on Twitter.
He also stressed that it is an important help in Ukraine's fight against Russian aggression. "Together we support Ukraine's economy, and we are moving forward to victory!" Zelensky wrote.
As reported by Ukrinform, Ukrainian authorities and staff of the International Monetary Fund reached a staff-level agreement on an Extended Fund Facility (EFF) arrangement last week.