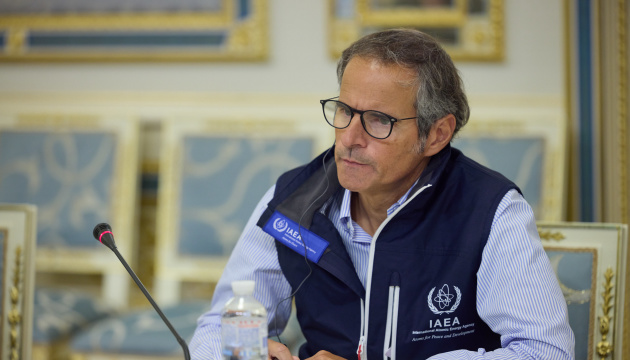 IAEA chief to travel to Zaporizhia NPP next week
The Director General of the International Atomic Energy Agency (IAEA), Rafael Mariano Grossi, will travel to Ukraine's Zaporizhia Nuclear Power Plant (ZNPP) next week to assess first-hand the serious nuclear safety and security situation at the facility and underline the urgent need to protect it during the ongoing military conflict in the country.
That's according to the agency press service, Ukrinform reports.
It will be the second time Director General Grossi crosses the frontline in order to reach Europe's largest nuclear power plant and the first since he established a permanent presence of IAEA experts at the site in southern Ukraine on September 1, 2022, the statement notes.
"I've decided to travel again to the Zaporizhia Nuclear Power Plant to see for myself how the situation has evolved since September and to talk to those operating the facility in these unprecedented and very difficult circumstances. I remain determined to continue doing everything in my power to help reduce the risk of a nuclear accident during the tragic war in Ukraine," said Grossi.
"Despite our presence at the site for seven months now, the situation at the Zaporizhzhya Nuclear Power Plant is still precarious. The nuclear safety and security dangers are all too obvious, as is the necessity to act now to prevent an accident with potential radiological consequences to the health and the environment for people in Ukraine and beyond. I'm therefore continuing to work on a proposal to protect the plant," he added.
Director General Grossi said his travel to Ukraine was also aimed at ensuring the regular rotation of IAEA experts to and from the site is maintained and improved, following the very challenging circumstances faced by the experts during the previous rotation in February which had been delayed by almost a month. He will be accompanied by a new group of IAEA experts, the seventh such team present at the site since the IAEA Support and Assistance Mission to Zaporizhia (ISAMZ) was established.
As Ukrinform reported earlier, IAEA Director General Rafael Marino Grossi expressed concern about the fact that the last remaining 330 kV backup transmission line at the Zaporizhia NPP, which was damaged three weeks ago, is still under repair.
Earlier, President Volodymyr Zelensky said that it was necessary to find mechanisms for liberating the Russian-captured ZNPP as currently no international institution is able to solve the issue.