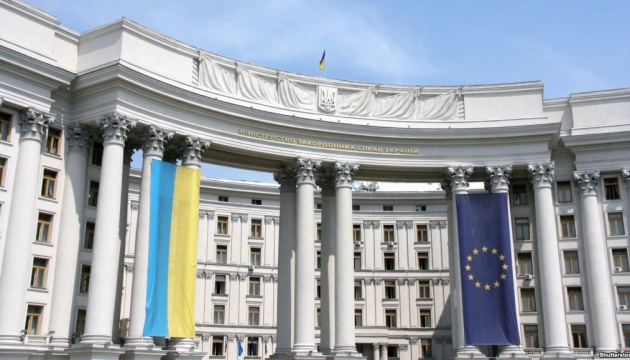 MFA invites Ukrainian manufacturers to participate in UN Procurement and Vendor Fair
The Ministry of Foreign Affairs invites Ukrainian entrepreneurs to participate in the UN Procurement and Vendor Fair to be held on March 28.
The relevant proposal was published on the website of the Ministry of Foreign Affairs, Ukrinform reports.
"In order to support Ukrainian exporters, we invite Ukrainian enterprises to participate in the UN Procurement and Vendor Fair on March 28, which is held by the Ministry of Foreign Affairs of Ukraine together with the UN and the Kyiv Chamber of Commerce and Industry. At the event, information will be presented on the specifics of the tender procedures applied by UN institutions, agencies, programs, and funds," the statement states.
MFA Ukraine added that Ukrainian enterprises already have successful experience in concluding contracts with the UN Secretariat and agencies, programs, and. At the same time, there is an opportunity to expand participation of Ukrainian companies in the supply of goods and services for the UN needs.
Participation is free of charge, the statement reads, adding that its format provides for both offline and online (Zoom) engagement.
The applications for participation will be accepted until March 23 inclusive.
The UN system is the largest purchaser among international organizations with a total volume of annual tenders amounting to almost $30 billion. To support its activities, the organization requires goods and services both in Ukraine and around the world.
In recent years, the largest procurement segments for UN organizations have been pharmaceuticals, vaccines, medical supplies, transport services, storage and postal services, as well as food and beverages, etc.
According to the UN press service, the organization's procurement volumes for humanitarian response and recovery efforts in Ukraine experienced a significant increase and are expected to continue to rise in 2023. The UN presence in Ukraine consists of 24 entities, many of which have a substantial procurement. In 2022, local suppliers of food commodities, goods, and services secured almost USD 300 million in procurement contracts from the UN.