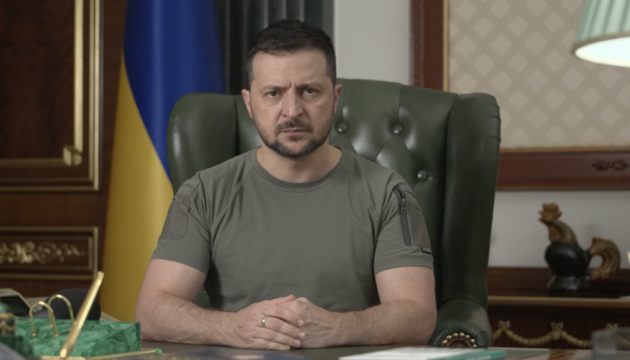 Zelensky: Russian leadership "sick people" once again putting world on brink of severe food crisis
President Volodymyr Zelensky of Ukraine reacted to the statements the Russian defense ministry voiced about a USV attack on their warships in the temporarily occupied Sevastopol, allegedly launched from a bulker off the coast of Odesa.
In his response voiced in an evening video address, the head of the Ukrainian state referred to the Russian leadership as sick people who are once again putting the world on the brink of a severe food crisis, an Ukrinform correspondent reports.
Zelensky said that another ship chartered by the United Nations food program has been loaded in the port of Chornomorsk. According to the president, this is a bulker carrying 40,000 tonnes of wheat bound for Ethiopia, which is experiencing an extremely difficult food situation. "Ethiopia is on the brink of famine. This is a problem not only of rising prices but of a physical lack of food," the president noted.
Zelensky stated that Ukraine is ready to release the bulker carrying wheat into the sea, but she and other ships carrying agricultural products are forced to wait because Russia is blackmailing the world with hunger.
"What did the world hear? That supposedly someone is launching drones from a grain-carrying vessel. First, they talked about war birds, then it was war insects, and now it's war grain. Wheat is a killer, sinking Russian 'admirals.' What can we say? They are some really sick people. But these sick people are again putting the world on the brink of a severe food crisis," said the head of the Ukrainian state.
He emphasized that Russia is the sole culprit of food products now being set to become more expensive for various people from West Africa to East Asia. In addition, according to the president, Russia is the reason why people, in particular in Ethiopia, Yemen, or Somalia, are still seeing a catastrophic shortage of food.
At the same time, Zelensky emphasized that international partners are trying to convince the terrorist state of the Russian Federation to stop its blackmail. "But is it realistic? So far, the facts indicate that the Russian leadership is more interested in exacerbating the food crisis than in implementing the documents signed. And this, by the way, is the answer to all those who talk about negotiations with Russia. The grain corridor is a very specific example. There are now 218 pieces of evidence that Russia does not want any real agreements. It's 218 ships awaiting the opportunity to carry food under export contracts or enter Ukrainian ports," the president of Ukraine added, noting that the Russian Federation has been slowing down the grain corridor week after week, despite the promise to partners, and now they have blocked it completely.
Despite this, Zelensky assured that Ukraine, on its part, will do everything to ensure that the grain export initiative continues to work.