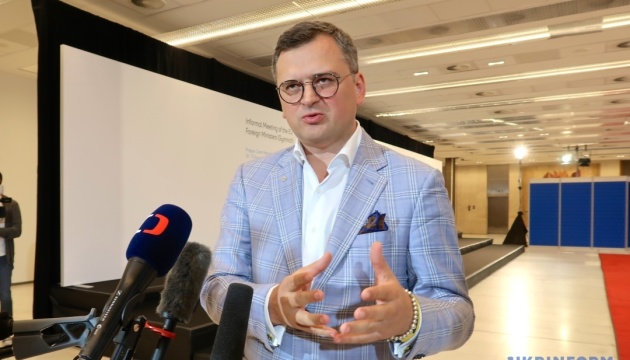 Kuleba: Russia has long planned to resume "hunger games"
Minister for Foreign Affairs of Ukraine, Dmytro Kuleba, believes Russia has long planned to undermine the grain deal and is now trying to justify its move.
That's according to Kuleba's latest statement posted on Twitter, Ukrinform reports.
"By suspending its participation in the grain deal on a false pretext of explosions 220 kilometers away from the grain corridor, Russia blocks 2 million tons of grain on 176 vessels already at sea — enough to feed over 7 million people. Russia has planned this well in advance," Kuleba tweeted.
According to the top diplomat, the current queue with grain has accumulated in the Black Sea since September, "when Russia started deliberately delaying the functioning of the corridor and seeking to undermine the deal."
"Russia took the decision to resume its hunger games long ago and now tries to justify it," Kuleba underlined.
As Ukrinform reported earlier, Russia accused Ukraine and Britain of "terrorist attacks against ships of the Black Sea Fleet and civilian vessels involved in guaranteeing the security of the 'grain corridor'" and announced its withdrawal from the Black Sea Grain Initiative.
The head of the Ministry of Foreign Affairs of Ukraine, Dmytro Kuleba, called on the international community not to allow Russia to block, under a false pretext, the "grain corridor", which guarantees food security of millions of people.
On the morning of October 29, explosions rang out in the bay of the temporarily occupied Sevastopol. Ukraine has not confirmed involvement.
In Istanbul on July 22, at the suggestion of the United Nations, Ukraine, Turkey, and UN Secretary-General Antonio Guterres signed the Initiative on the safe transportation of grain and food products from the ports of Odesa, Chornomorsk and Pivdennyi. Guterres called for an extension of the Black Sea Grain Initiative, which expired on November 22.