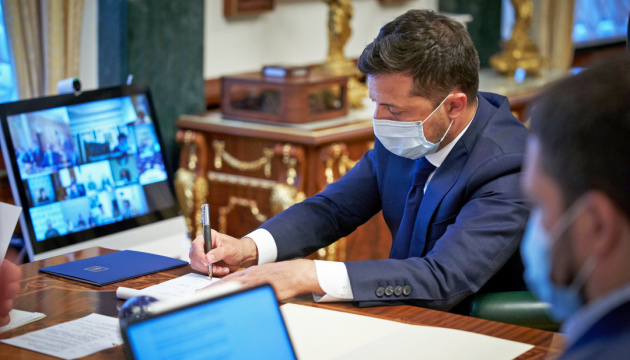 Zelensky tables bill to support businesses during lockdown
Ukrainian President Volodymyr Zelensky has registered in the Verkhovna Rada the bill No. 4429 "On Social Support for Insured Persons and Business Entities for the Period of Restrictive Anti-Epidemic Measures Introduced to Prevent the Spread in Ukraine of the Acute Respiratory Disease COVID-19 Caused by the Coronavirus SARS-Co V-2," according to the website of the Ukrainian parliament.
The bill was identified by the president as being urgent. The document was received on November 26 and submitted to the parliament's leadership.
The text of the bill and the accompanying documents have not been made public yet.
Zelensky on November 24 announced the registration of bills on measures to provide economic support to citizens and businesses affected by lockdown restrictions.
According to the head of state, legislative initiatives will provide that individual entrepreneurs and employees whose field of activity is banned due to lockdown will receive financial assistance in the amount of UAH 8,000. According to estimates, more than a million citizens of Ukraine will be able to receive such assistance under this program, and its total amount will be almost UAH 10 billion.
In addition, businesses will receive one-time financial assistance to save jobs in an amount proportional to the time of the so-called "downtime," in the amount of up to UAH 8,000 per employee.
Enterprises whose work is terminated due to lockdown restrictions will be reimbursed for the cost of paying a single social contribution for their employees. According to the head of state, this is almost UAH 1.5 billion for about 120,000 legal entities.
In addition, if the restrictive measures are tightened, 200,000 individual entrepreneurs of the first group will be exempt from paying all taxes and fees, including a single social contribution.
op