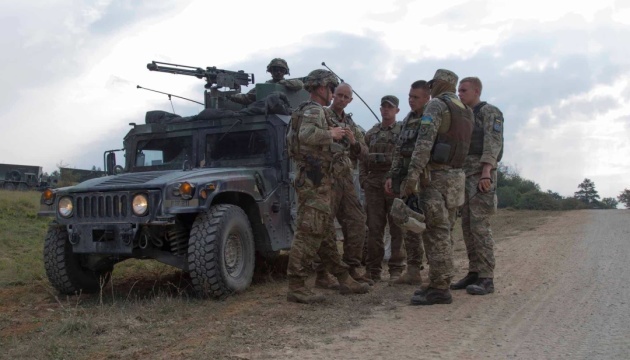 Multinational military exercise Three Swords 2021 kicks off in Ukraine
The international military exercise of the Hetman Kostiantyn Ostrohskyi Lithuanian-Polish-Ukrainian Brigade (LitPolUkrBrig), Three Swords 2021, has started at the International Peacekeeping and Security Center of the Hetman Petro Sahaidachny National Academy of Land Forces in Lviv region.
That's according to the General Staff of the Armed Forces of Ukraine, Ukrinform reports.
The objective of the drill is to assess the level of skills of subordinate units within LitPolUkrBrig during a conditional defense mission.
The participants in the exercise will be trained in planning and conducting offensive defense operations, improve interoperability between the brigades' units amid hostilities, and enhance interoperability with the units of the NATO Allies' armed forces.
The Armed Forces of Ukraine will be represented by Airborne Assault Forces, an aerial support group, and military police. Poland's Armed Forces deployed members of the mechanized brigade as part of the Land Forces, Lithuania's Armed Forces are being represented by military police, while the U.S. Armed Forces sent the observers.
More than 1,200 servicemen will take part in the exercise which will also involve over 200 combat vehicles.
The drill will be run in four phases, through July 31.
As Ukrinform reported earlier, the Three Swords exercise is designed to boost international military cooperation and combat readiness of the Lublin Triangle's joint military unit, LitPolUkrBrig.
The exercises were initiated in August 2019, during talks held between the Chiefs of General Staff of Poland and Ukraine.
The agreement on the founding of the LitPolUkrBrig was signed off in September 2014.
Photo: mil.gov.ua
im