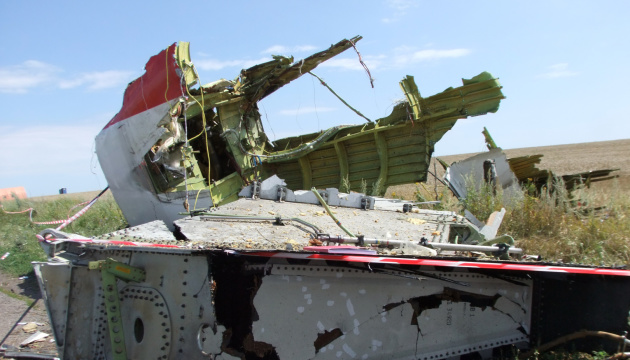 MH17 shot down by Russian Buk, court in The Hague rules
The Dutch court hearing an MH17 case confirmed that the Malaysia Airlines passenger jet was shot down by a Buk anti-aircraft missile system.
This was reported by Ukrinform's own correspondent in The Hague.
"Court considers that the downing of MH17 was caused by the firing of a Buk missile from field in ​​Pervomaisk," said Presiding Judge Hendrik Steenhuis.
He also noted that there is irrefutable evidence that Russia had "full control" over its proxy militants.
"The court has examined the photos from Torez, the testimony of witness M18, satellite imagery, intercepted calls, photos, and videos, (...) as well as expert conclusions as to the fragments, retrieved from the bodies of victims and from the airplane body - and this all testifies to MH17 having been shot down by a Buk missile," the judge added.
As reported, a court session has begun in the Netherlands to announce the verdict in the МН17 case.
Malaysia Airlines Flight MH17, en route from Amsterdam to Kuala Lumpur, was shot down over occupied area of Donetsk region on July 17, 2014. There were 283 passengers and 15 crew members on board. All of them died. The international Joint Investigation Team reported that the plane had been shot down from a Buk missile system that belonged to the 53rd Anti-Aircraft Missile Brigade of the Russian Armed Forces stationed in Kursk.
The defendants are Igor Girkin (Strelkov), former Russia's FSB colonel and former so-called defense minister of the "Donetsk People's Republic"; Sergey Dubinskiy, general (at the time of downing – colonel) of the Main Intelligence Directorate of the General Staff of the Russian Armed Forces; Oleg Pulatov, lieutenant colonel of the Main Intelligence Directorate of the General Staff of the Russian Armed Forces; Ukrainian citizen Leonid Kharchenko who fought on the side of the so-called "Donetsk People's Republic". They are considered to be involved in the transportation and combat use of a Buk missile system.
In March 2020, the District Court of The Hague began the consideration of the case over the downing of Flight MH17.