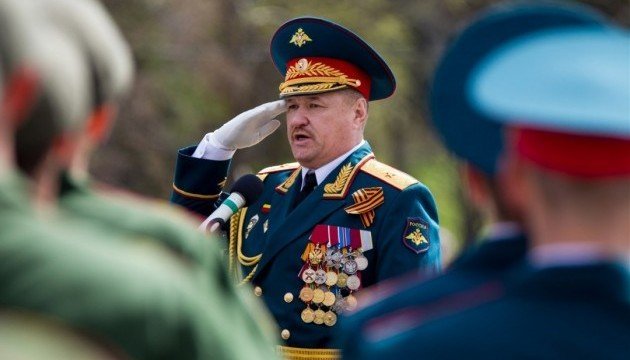 Militants confirm Russian general killed in Syria worked in Donbas - Reuters
Russian general Valery Asapov, who died in hospital following a landmine explosion in Syria, commanded the "First Army Corps (Donetsk) of the Russian Armed Forces" during the intensification of hostilities in Donbas, Reuters has reported, citing militants and Asapov's brother.
"Five rebels independently told Reuters that Asapov was a commander in the armed forces in one of them, the self-proclaimed Donetsk People's Republic. Specifically, two of the rebels said, Asapov commanded the rebels' key armed division, the First Army Corps. Asapov's younger brother Vyacheslav also confirmed that his brother was in Ukraine," reads the report.
In particular, three militants said Asapov was not the first general seconded to be their leader, and that "there continues to be a rotation of Russians in charge of the rebel army."
Asked whether the defense ministry of the "Donetsk republic" plays any military role, a senior separatist officer said: "No. The defense ministry deals only with politics and humanitarian activities."
At the time of his Ukraine mission, Asapov was formally based in the southern Russian city of Rostov-on-Don. Near the end of his official assignment in Rostov in the summer of 2016, Putin gave him the rank of lieutenant-general. When he showed up in Ukraine, Asapov wore a uniform without insignia, one of the separatists who met him at the time said.
Another senior officer said that when Asapov was formally introduced to militants, "we were told our commander had arrived." Many rebel officers knew Asapov was a Russian general without being told, he said.
"It was clear anyway... If Russia sends aid, ammunition here, they need to watch it so that this wouldn't be embezzled," he said.
The officer saw that Asapov signed documents as Primakov, and only learned his real name when he saw his pictures in reports about his death in Syria. Another of the militants recognized him only after a Reuters reporter showed him a picture of his portrait at his grave.
At the same time, the separatists' command denies Asapov was in Ukraine.
The fact that Russian Lieutenant-General Valery Asapov was killed in Syria became known at the end of September 2017. According to the Main Intelligence Department of the Ukrainian Defense Ministry, Asapov previously commanded the "First Army Corps (in the "Donetsk People's Republic") of the Center for Territorial Forces of the Southern Military District of the Armed Forces of the Russian Federation."
op