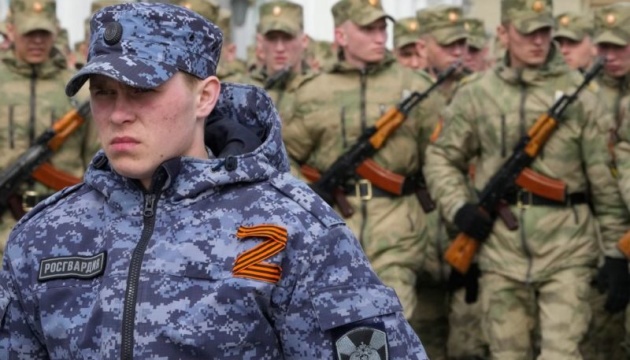 Brutal executions as terror tool: Why Russian soldiers follow ISIS patterns
The Russian military brutally executed a Ukrainian prisoner, beheading him with a knife. The video of the atrocity first appeared on social media on the evening of April 11 before it was actively spread by pro-Kremlin Telegram channels and social media accounts.
On the same day, the Russian group MILITARY Z published a photo of the head, impaled on a spike, stating that these were "the remains of the Ukrainian soldier." It has not yet been possible to find out the circumstances of the incident shot on video, as well as to verify whether the video and photos are indeed connected.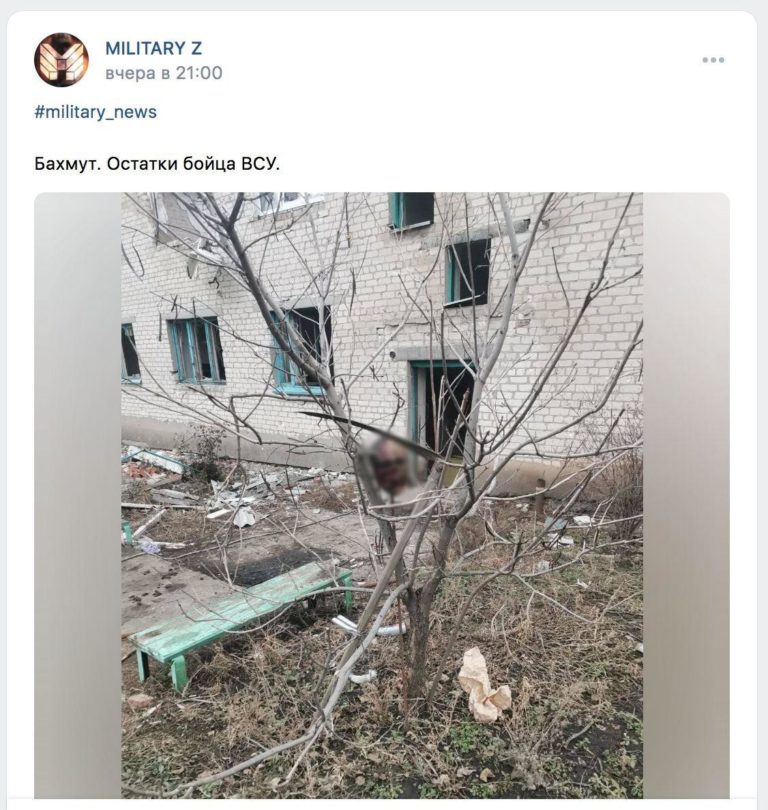 The Security Service of Ukraine has launched an investigation into this war crime. President Volodymyr Zelensky stressed that this case "is not an accident, not an episode."
"We are not going to forget anything. Neither are we going to forgive the murderers. There will be legal responsibility for everything. The defeat of terror is necessary," president stated.
The Center for Strategic Communication and Information Security explains why these videos appear and what they indicate.
War crimes are routine for Russia's military
This is not the first case of inhuman cruelty by the Russian military and paramilitary formations, which became publicly known. Ukrainian law enforcement, journalists, and human rights activists have been receiving evidence of the killings, torture, and rape of civilian hostages and prisoners of war since 2014 — the outset of Russia's armed aggression against Ukraine, which led to the occupation of Crimea and part of Donetsk and Luhansk regions.
The first victim of Russia's aggression against Ukraine was Reshat Ametov, a Crimean Tatar man who protested against the Russian occupation of the peninsula.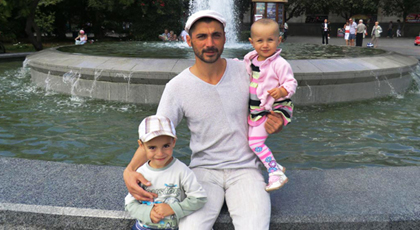 Family archive picture: Reshat Ametov,39 seen with 2 of his children, Alij,5 and Khatidzhe, 2,5.
On March 3, he was abducted by militants from the paramilitary formation "Crimean Self-Defense" led by a retired Russian army officer, Yevgeny Skripnik. The killers gouged out Reshat Ametov's eyes, broke his ribs, and left numerous wounds and burns on his body.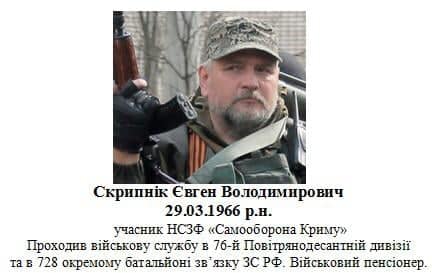 Yevgeny Skripnik
The occupiers cut off an arm of Vasyl Pelysh, the soldier of the 24th battalion of territorial defense Adiar - all because of the tattoo of the Ukrainian coat of arms — a trident.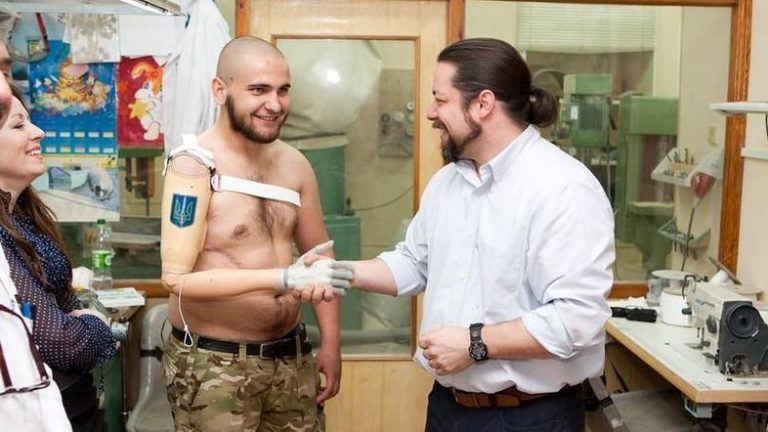 Vasyl Pelysh (left)
That torture methods such as eye gouging or cutting off limbs is common practice for the Russian occupiers has repeatedly been evidenced by survivors.
The full-scale invasion, which began on February 24, 2022, is accompanied by mass war crimes. In the occupied territories, the Russians tortured, raped, and killed both captured soldiers and civilian hostages. In Kharkiv region alone, after the Russian invaders were expelled, Ukrainian law enforcers discovered 25 torture chambers.
As of mid-March, Ukrainian law enforcement documented more than 71,000 war crimes, including over 150 cases of sexual violence against women, children, and men. But the real number of rapes is much higher: documentation and investigation of this type of crime is complicated both by the killing of some victims by the occupiers and by the psychological trauma the survivors are going through to this day.
Why do videos of executions and tortures appear today?
The Russians themselves do not document every crime, filming videos. But we can say that the practice is quite common.
In March, a video was published of the shooting by the Russians of a captured Ukrainian soldier Oleksandr Matsievskyi, whose last words were "Glory to Ukraine!"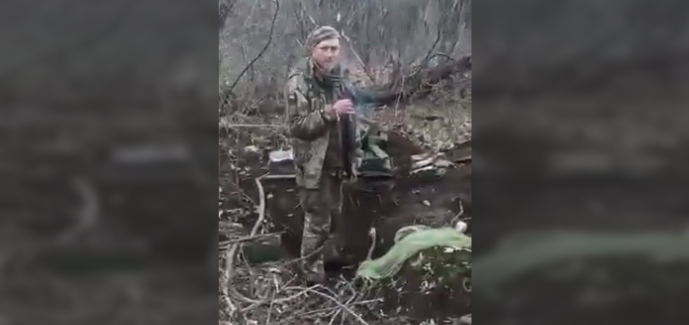 Oleksandr Matsievskyi
In July 2022, two parts of the video showing torture and murder of a prisoner who had his genitals cut off with a stationary knife were leaked. OSINT investigators Bellingcat found that the crime was committed on the territory of the health center in Luhansk region by Ochur-Suge Mongush, a native of the Republic of Tuva, and other militants of the Kadyrov Battalion with the Russian Guard, Akhmat.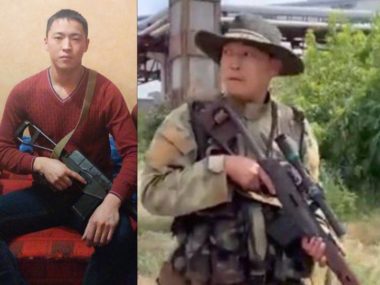 Ochur-Suge Mongush
These gruesome videos are published not only to undermine the morale of the Ukrainian military and demoralize civilian population.
Russians provoke Ukrainian soldiers to similar atrocities as acts of revenge.
There is every reason to believe that the creation of such content is a tool for "binding by blood" for servicemen with the Russian armed forces, Russian guard, and militants from irregular units. Persons complicit in crimes should understand that they have no "way back," and desertion, surrender, or other attempts to avoid hostilities will end badly for them.
Telegram channel DSHRG Rusich added a comment to the video of the execution: "you will be surprised how many more such videos will pop up."
This is another proof that torture and executions of prisoners is a systematic practice for the Russians.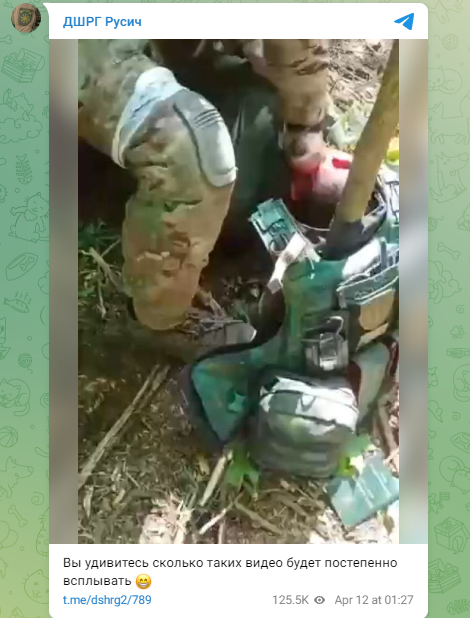 This platform is the official communication channel of the Sabotage Assault Reconnaissance Group Rusich. The founder and commander of this unit, Alexey Milchakov, does not hide his neo-Nazi views and is personally involved in creating gruesome content. In 2011, Milchakov posted on social media a photo showing a murder of a puppy, with his head being cut off. The Russian police even opened a criminal case into that fact.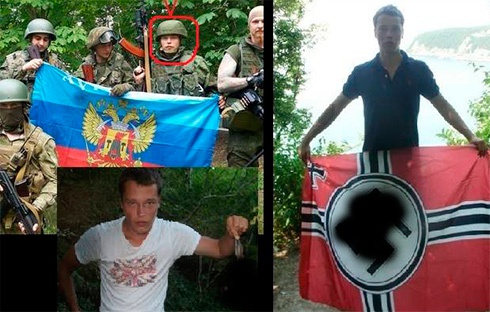 Alexey Milchakov
But neither the problems with law nor the blatant propaganda of Nazism prevented Milchakov from serving in the elite unit, the 76th Guards Air Assault Division, stationed in Pskov. In 2014, he deployed in Donbas as a "volunteer." Among the things that Milchakov filmed back then were the killings of Ukrainian wounded soldiers who were ambushed in Luhansk region on September 5, 2014, and the mutilation of their bodies.
After his participation in the war in the east of Ukraine in 2014, Milchakov became a prominent media figure in Russia, a frequent guest on TV shows, and an activist with the so-called "Union of Donbas Volunteers." He repeatedly met and took pictures with Russian politicians, for example, with Putin's aide at the time, Vladislav Surkov.
Conclusions
● The actions of the Russian military are no different from those of ISIS terrorists. There are true sadists in their army ranks. Commanders are aware of the war crimes, they even supervise them.
● The torture and killing of prisoners and hostages by the Russian military is a logical continuation of the Kremlin and senior command's actions. It was they who chose terrorist tools of warfare, involving missile strikes on residential blocks and critical infrastructure.
● There is every reason to recognize Russia as a state sponsor of terrorism.
● Terrorist actions committed by the Russian leadership and their military are incompatible with Russia's presence in the UN Security Council as a permanent member.
● Any attempts to "freeze" the conflict or sign off a truce cannot stop the war. They will only increase the Kremlin's appetites and give Russia time to better prepare for a new wave of aggression.
● Only Russia's defeat can stop their terror and brutal crimes. To this end, Ukraine needs more military assistance.
Center for Strategic Communication and Information Security