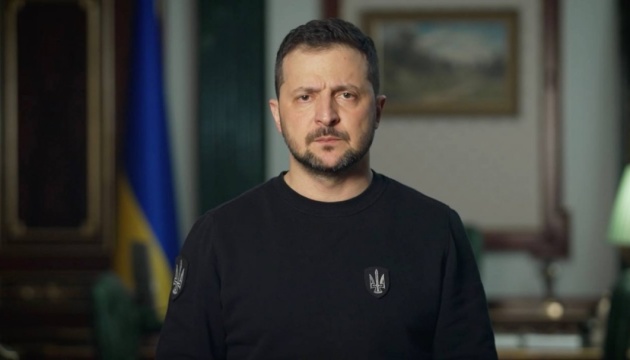 Zelensky on beheading of Ukrainian soldier: This is a video of Russia as it is
Ukrainian President Volodymyr Zelensky has said that the whole world must see the video showing the beheading of a Ukrainian soldier, and no one will understand if world leaders do not react.
He said this in a video address posted to his Telegram channel, according to Ukrinform.
"There is something that no one in the world can ignore: how easily these beasts kill. The world must see this video [showing] the execution of a Ukrainian captive. This is a video of Russia as it is. What kind of creatures they are. There are no people for them. A son, a brother, a husband, someone's child. This is a video of Russia trying to make just that the new norm. Such a habit of destroying life," Zelensky said.
He added that the execution of the Ukrainian prisoner was not an accident or an episode, because this was the case before, this was the case in Bucha, thousands of times.
Zelensky called on the world and everyone to respond to this terrible crime. "Everyone must react. Every leader. Don't expect it to be forgotten. That time will pass. We are not going to forget anything. Neither are we going to forgive the murderers. There will be legal responsibility for everything. The defeat of terror is necessary. No one will understand if the leaders don't react. Action is required now," he said.
He also noted that people in Ukraine must focus on the front line as much as possible and help drive the occupiers out of Ukrainian land.
"We must help expel the occupier from our land. The main goal is to win. The main goal is strength for Ukraine to win. Defeat of the occupier, sentences to murderers, tribunal for the evil state. Eternal memory to every person whose life was taken by Russian terror. Glory to all who fight against this evil," Zelensky said.
Last week two videos were posted on social media, allegedly showing the beheadings of Ukrainian defenders. According to CNN, the videos appear to be of separate events. One of them may have been filmed very recently, while the other – from the amount of foliage seen on the ground – looks like it was filmed during the summer.
The first video was posted by a pro-Russian social media channel on April 8, 2023. It was filmed by Russian mercenaries from the Wagner Group and shows the beheaded corpses of two Ukrainian soldiers lying on the ground next to a destroyed military vehicle. Russian sources claim that this video came from near Bakhmut.
The second video was posted on Twitter and is heavily blurred. It looks to have been filmed during the summer because of the amount of plant life on the ground. The video shows a Russian fighter using a knife to cut off the head of a Ukrainian soldier.
Ukraine's SBU State Security Service has launched a pre-trial investigation into a video showing Russian invaders beheading a Ukrainian POW.
Ukraine's law enforcement agencies are taking measures to identify those who committed this terrible crime.
Photo: Ukraine's President's Office