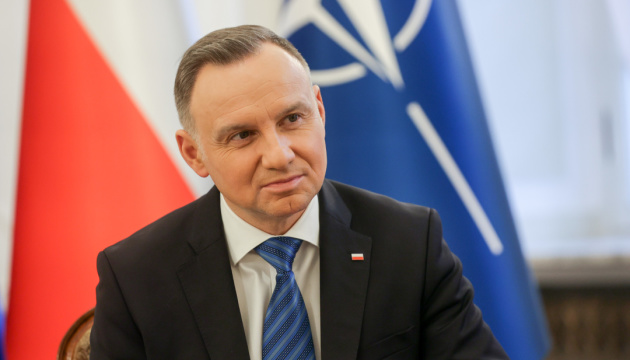 Ukraine should receive enough weapons to liberate its land - Duda
Ukraine's partners should provide it with military support to the extent that it could expel Russia from its entire territory.
This was stated by Poland's President Andrzej Duda in an interview with a Czech TV channel, Ukrinform reports.
"Military support for Ukraine should extend to Ukraine pushing the enemy out of its territory. What does this mean? This means that Russian troops ... withdraw from the entire internationally recognized territory of Ukraine. Ukraine must regain full control of its territory," Duda said.
He assured that Poland unequivocally supported Ukraine and will definitely keep doing so. According to Duda, his country "historically has no doubts about what Russian imperialism, Russian occupation, and Russian repressive policy towards the people are," because the Poles themselves have experienced it for centuries and "understand very well what the 'Russian world' is."
"We don't want it, as evidenced by the stance of our people and governments toward Russia. And that is why we now stand by Ukraine and protect it," the president emphasized.
He mentioned humanitarian aid (some 1.5 million Ukrainians permanently live in Poland), aid at the government level (worth 1.5% of the Polish GDP), and defense support provided to the neighboring state.
One of the latest decisions is to give Ukraine MiG-29 fighter jets. In addition, Poland has handed over 300 main battle tanks. According to the recent decision, more tank equipment will be transferred.
"These are PT-91 tanks, i.e. the best modernized tanks of the post-Soviet period, which can be manned by Ukrainian tankers. We have sent, and we are sending now, the T-72 tanks, but at the same time we are also handing over tanks bought in Germany," Duda clarified.
In addition, he recalled that Poland, together with other countries, participates in the transfer of Leopard tanks, contributing 14 units.
President Duda earlier held talks in Warsaw with the newly-appointed President of the Czech Republic, Petr Pavel.
As reported, Duda explained to the prime ministers of African nations the true motive behind Russia's military campaign in Ukraine.