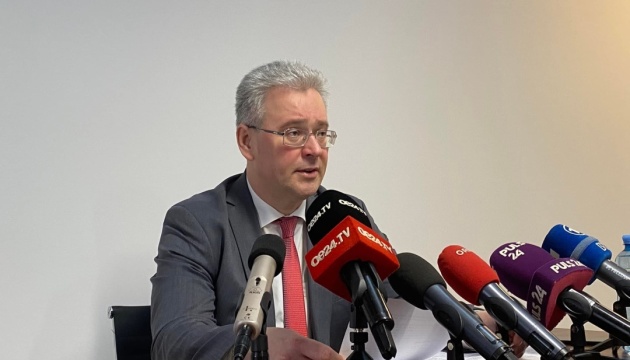 Ukraine envoy tells OSCE why country needs fighter jets from partners
Ukraine requires longer-range weapons, as well as fighter jets, to prevent another escalation by Russia.
That's according to Ambassador Yevhenii Tsymbaliuk, Permanent Representative of Ukraine to the International Organizations in Vienna, who addressed the meeting of the OSCE Permanent Council on Thursday, an Ukrinform correspondent reports.
"Ukraine is extremely grateful to its partners for their recent decisions to reinforce our self-defence capacities. But Ukraine also needs longer-range of weapons. And fighter jets. Ukraine needs them to protect itself from attacks and to prevent a new escalation," said the ambassador.
He explained that Russia attacks only when it sees" weakness."
"When it sees strength, Moscow steps back," he stressed.
Because we remember what meant uncontested sky for russia over Mariupol.
The envoy recalled Russia's crimes in Marupol, where their warplanes saw no resistance on the Ukrainian side: "They pay no attention to sighs like 'ДІТИ,' or 'Children,' in front of theatres where civilians take shelter."
Tsymbaliuk noted that there is only one "red line," which Russia has already crossed multiple times – respect for a human life.
In this regard, the ambassador called for providing Ukraine with more weapons and applying more sanctions against the Russian Federation, which will stop the aggressor and limit their ability to attack another country in the future.
The head of Ukraine's mission to the OSCE also briefed the meeting on Russia's terrorist attacks on residential areas and civilian population, including the latest shelling of apartment blocks in Kharkiv, Kostiantynivka, and Kramatorsk. He also drew attention to Russia's desire to take revenge on the residents of liberated Kherson, which has been shelled more than 1,700 times since November 20.
"There are endless attempts to conquer Bakhmut, Vuhledar and other localities in the region. Actually, these cities are being deliberately destroyed by the Russians. This we had already seen in Mariupol before. They do not pay attention to great losses on their side. In some wars Russia lost less people than near Bakhmut," Tsymbaliuk said.
He recalled on the crimes that the Russian forces commit in the temporarily captured areas. "As long as Russia's boots remain on Ukraine's soil, there will be new reports of abductions, illegal detentions, filtration, forced assimilation, tortures, executions, deportations, sexual violence and so on," the ambassador said.
"Even if the guns are silenced, the crimes will continue unabated. Therefore, we do not need a ceasefire, but a complete withdrawal of Russia from the territory of Ukraine," the envoy concluded.