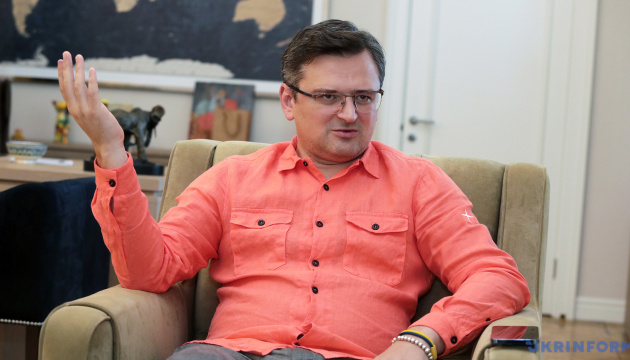 Nuclear threat to remain high as long as Russians control ZNPP - Kuleba
The situation at the Zaporizhia Nuclear Power Plant is extremely dangerous, and as long as Russia retains its presence at the facility, the threat of a nuclear incident will be very high.
This was stated by the Minister for Foreign Affairs of Ukraine Dmytro Kuleba, who spoke at a joint briefing with his Italian counterpart Luigi Di Maio in Kyiv, an Ukrinform correspondent reports.
"The situation in Zaporizhia is extremely dangerous. I'm receiving reports of flames seen in the forest near the NPP. We still have to look into this issue in more detail, but the facts are simple: Ukraine has been a loyal partner of the IAEA throughout the 30 years of independence; we've followed all nuclear safety rules and protocols, everything's been great," he said.
Kuleba emphasized that at the moment when Russia seized the power plant, Ukraine, Europe and the world appeared on the brink of a nuclear disaster of incredible scale.
"As long as Russia remains at the Zaporizhia NPP, the threat of a nuclear incident will be very high," the Foreign Minister noted.
ZNPP is Europe's largest nuclear power plant. On March 4, it was assaulted and seized by the Russian troops. Since then, the invaders have been deploying military equipment and ammunition on the plant's premises, shelling the surrounding area.
The European Union has condemned Russia's military activities around the Zaporizhia NPP, and called on the aggressor power to immediately return the control of the NPP to Ukraine.