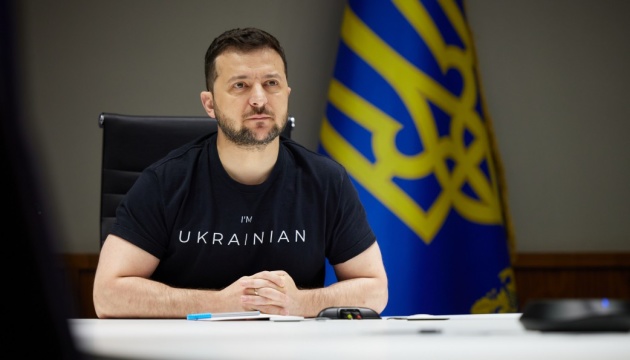 Zelensky: Russians apply "primitive" scorched earth tactics
Russian troops are totally destroying and ravaging Ukrainian territories, employing artillery, aerial bombs, and cruise missiles as their weapons of choice.
President Volodymyr Zelensky addressed the issue in a video chat with students and faculty of leading academic and research facilities in Israel, Ukrinform reports.
"It (Russia - ed.) destroys our cities, the Russian army burns everything to the ground on its path or devastates the occupied territories. The main Russian weapons are artillery, air bombs, and cruise missiles. The occupiers don't think about how they should fight; they have a very primitive tactic: they use the most of their bomb and artillery capabilities to simply leave no space for resistance," the head of state said.
In particular, the Ukrainian leader remarked that the Russian army delivers missile strikes at Ukraine every day and night with the vast majority of such attacks affecting civilian targets: households, businesses, infrastructure, and local populations.
"As of this morning, 2,709 missiles have already been launched at Ukraine, and given the pace of their use, the total number will soon reach 3,000. These are no primitive missiles. Of course, there are outdated, Soviet-era, made even in the 1960s, but there are also modern ones. Nevertheless, Russian missiles, bombs, and artillery are indiscriminate," the president stressed.
He told Israeli students and professors that the Russians had already destroyed 2,000 academic facilities across Ukraine.
"Who do you have to be to target a university, school, or kindergarten with artillery?! Russia has become a terrorist state, that's the point," Zelensky stressed.
According to the President's Office, about 20,000 participants joined the online meeting. The event also was broadcast live by a number of Israeli TV channels.
As reported, on February 24, 2022, the Russian Federation launched a full-scale invasion of Ukraine, thus expanding its armed aggression that has been going on since 2014.
Russian troops have been shelling and destroying key infrastructure, residential areas of Ukrainian cities and villages, using artillery, MLR systems, air bombs, and ballistic missiles.