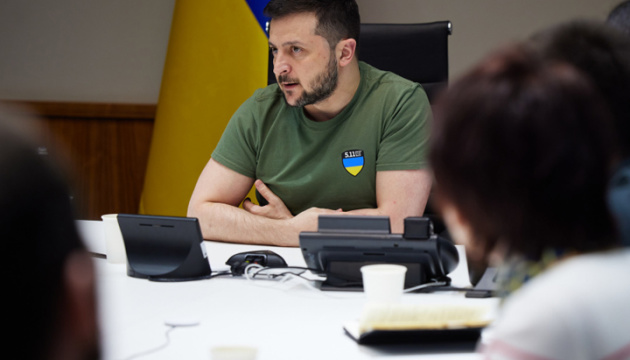 To reach borders as of February 24 with no unnecessary losses would already be seen as "victory" - Zelensky
Advancing without unnecessary human losses to the line, which was in place before February 24, the day Russia launched its full-scale invasion, would already be a victory for Ukraine.
This was stated by President Volodymyr Zelensky in an interview on the occasion of the third anniversary of his inauguration, which was broadcast on national television, Ukrinform reports.
"I'd consider it a victory for our state, as of today, to advance to the February 24 line without unnecessary losses. Indeed, we are yet to regain all territories as everything isn't that simple. We must look at the cost of this war and the cost of each deoccupation. I'm absolutely positive. We've cracked the spine of the world's largest or one of the strongest armies. We've already done it, for sure. And we've also done it psychologically. They won't be back on their feet for the next few years," said Zelensky.
According to the president, the most valuable thing now is to save more lives of Ukraine's soldiers, who are of the greatest value to Ukraine, as proved by the developments of Russian invasion.
He noted that it is very important that everyone understands the value of each difficult step – both forward and backward.
"Because taking a step back isn't easy. It's all costly, too costly - I'm talking about our people. And so reaching this line of demarcation, the temporary line, would be a victory. I'm sure it will be a victory. It will prove that they haven't captured us, that we've defended our land, and then we will move on to the second stage. And I would like this country to have enough wisdom to talk about the second stage at the negotiating table, which is what I hope for. And I hope that these talks result in final justice," the president added.
Photo: Ukrainian President's Office