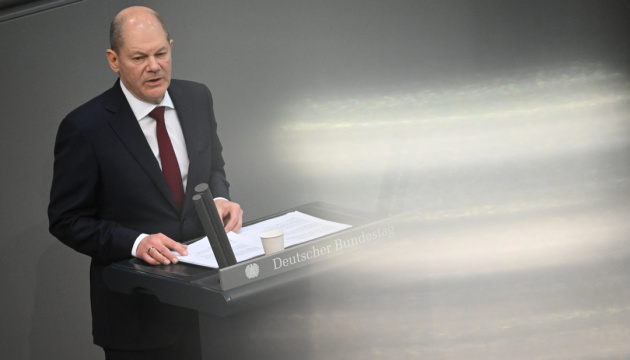 EU to make every effort to get rid of energy dependence on Russia - Scholz
The European Union will make every effort to abandon energy dependence on Russia, but for the moment, the bloc cannot afford to give it up completely.
This was stated by German Chancellor Olaf Scholz ahead of the talks with European Parliament President Roberta Metsola in Berlin on Tuesday, a Ukrinform correspondent reports.
As for the introduction of an embargo on energy imports, Germany's position, according to its chancellor, "has not changed," and the same is the position of "many, many" other countries that are dependent on Russian coal, oil, and gas imports even more than Germany, he added.
However, Scholz added, it was decided to get rid of dependence on Russian energy as soon as possible. To this end, it is necessary to build infrastructure and enter into agreements with other suppliers. So, if diversification is achieved very quickly, "the effect will come automatically."
Europe and its friends have imposed the most massive and well-prepared sanctions that have ever been imposed on such a large country, and they are already yielding an effect that "will become more dramatic every day," the German politician said.
At the same time, according to Scholz, the task is to make these tools "manageable", that is, to minimize their effect on western economies because it is posed to be a long-term confrontation.
In general, Scholz praised the common position of the European Union and Transatlantic partners, stressing that the EU only achieves something when it works together – the European Commission, European Parliament, and Member States.
"Europe and the world have changed because of Russia's attack on Europe. But Europe has been and remains our most important peace project," Scholz said.
Responding to a request from journalists to comment on Poland's proposal to exclude Russia from the World Trade Organization and G20, the German Chancellor said that the issue is in the hands of member states.
Scholz said he had invited G7 leaders to a meeting on Thursday, ahead of the EU Council summit in Brussels.
The chancellor reiterated his demand that Putin immediately cease hostilities in Ukraine and withdraw his troops from Ukraine. A ceasefire is an urgent need, the politician stressed. He also stressed the importance of a meeting between Russian and Ukrainian Presidents to be held as soon as possible.
As reported, on February 24, Russian President Vladimir Putin announced the beginning of the invasion of Ukraine. Russian troops are shelling and destroying key infrastructure, conducting massive shelling of residential areas of Ukrainian cities and villages using artillery, rocket-propelled grenades and ballistic missiles.
The European Union and a number of other nations, including the United States, Canada, Australia, and the United Kingdom, have imposed sanctions on Russia over the war in Ukraine. Hundreds of companies have suspended their operations in Russia and withdrawn from joint projects with Russian partners.
According to the Minister for Foreign Affairs of Ukraine, Dmytro Kuleba, due to the unconstructive position of certain governments, the fifth package of sanctions introduced by the European Union will not include an embargo on Russian oil and gas.
Germany seeks independence from Russian gas and is refocusing on other suppliers, including Qatar. The visit of Germany's Minister of Economy Robert Habeck to Doha on March 20 was dedicated precisely to this issue.
Photo: dpa