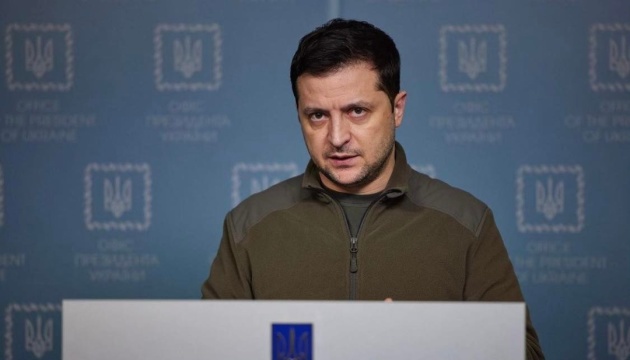 President: Russians will face international tribunal for attack on Kharkiv
Russia's missile artillery shelling of residential districts of Kharkiv is a war crime that will be punished at an international tribunal.
"Russian forces today brutally fired missile artillery on Kharkiv.
This is clearly a war crime. Peaceful city. Peaceful residential districts. Not a single military facility. Dozens of eyewitnesses prove that this is not an erroneous volley but deliberate destruction of people. The Russians knew what they were targeting. There will definitely be a tribunal for this crime. An international tribunal," President Volodymyr Zelensky said in his address, Ukrinform reports.
Zelensky stressed that the shelling was a violation of all conventions. According to him, no one in the world will forgive Russians for killing peaceful Ukrainians.
"This is Ukraine. This is Europe. This is year 2022. Evil, armed with missiles, bombs, and artillery, must be stopped immediately. [Must be] destroyed economically. To show that humanity is able to defend itself," the Head of State stressed.
As reported, on February 28, 11 people were killed and several dozen people were wounded in a missile artillery shelling of Kharkiv. As a result of the shelling, 87 houses were destroyed.
Russian president Vladimir Putin declared war on Ukraine on February 24 and launched a large-scale invasion. Russian troops have been shelling and destroying key infrastructure facilities. Missiles hit residential buildings.
Martial law was imposed in Ukraine and general mobilization was announced.
Ukraine officially filed a lawsuit against the Russian Federation at the UN International Court of Justice in The Hague.
The Armed Forces of Ukraine, with the support of all Ukrainian people, courageously resist the Russian aggression.
ol