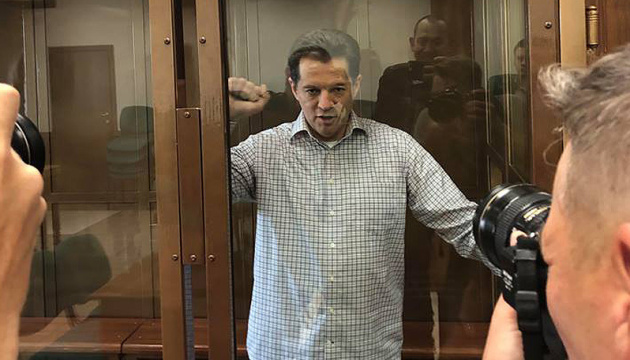 Sushchenko meets with family in Utrobino
Illegally convicted Ukrinform journalist Roman Sushchenko, who is held in a penal colony in the Kirov region of Russia, has held a long meeting with his wife and daughter for the first time, his daughter, Yulia Sushchenko, has said.
"My mother and I could hug our Roman Sushchenko for the first time in the past two-and-a-half years. In general, the date was ok. My father lost weight. It could be seen that prisoner transport was not easy for him. He feels more or less normal. A local doctor keeps an eye on his blood pressure. We passed the words of support to my father and showed him postcards from our colleagues. He expresses gratitude and conveys greetings to everyone," she said.
According to her, the date lasted three days and was arranged in a special room for long meetings with prisoners.
"My father said that the living conditions of his detention in the colony had improved after a series of appeals from the Ukrainian Embassy in Moscow and Verkhovna Rada Human Rights Commissioner Liudmyla Denisova. He was transferred to a warmer cell and he is at least given hot water," she said.
At the same time, Sushchenko's daughter said that there were still problems with making phone calls. In addition, the journalist does not get letters that are sent to him.
As reported, Ukrinform's Paris-based correspondent Roman Sushchenko was illegally detained on September 30, 2016 in Moscow, where he arrived on a private trip. On October 7, 2016, he was charged with "espionage." Russia's FSB claimed that Sushchenko is a member of the Main Intelligence Directorate of the Ukrainian Defense Ministry. The latter denied this allegation.
On June 4, 2018, the Moscow City Court sentenced Sushchenko to 12 years in a high-security penal colony. The Supreme Court of Russia upheld the verdict on September 12.
On October 8, it was reported that Sushchenko had been moved to a penal colony. On November 7, the Russian Federal Penitentiary Service (FSIN) informed Ukraine's Embassy in Moscow that Sushchenko had been transferred to Penal Colony No. 11 of the FSIN directorate for the Kirov region (the town of Kirovo-Chepetsk, the village of Utrobino).