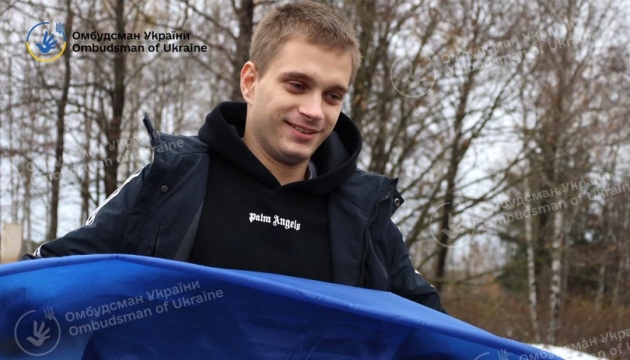 Mariupol orphan returned from Russia writing songs in support of AFU
Bohdan Yermokhin, who has recently returned to Ukraine from Russia, where he had been illegally deported by the occupiers, has created a collection of songs in support of the Armed Forces of Ukraine (AFU).
The relevant statement was made by Yermokhin's lawyer, Kateryna Bobrovska, in a commentary to Ukrinform.
"Bohdan has a lot of dreams. He is a creative person who has written many songs in support of the Armed Forces of Ukraine while staying in captivity. Until his return, I could not speak of this, as it was dangerous," Bobrovska told.
In her words, Yermokhin may soon record one of his songs, and his concerts are likely to be seen and heard in the future.
"These concerts will be intended to help and support our guys who are defending the state," Bobrovska added.
Currently, Bohdan and his 26-year-old sister Valeriia, who became his legal guardian, are staying in Kyiv. Valeriia used to live with her parents in the temporarily occupied city of Mariupol prior to Bohdan's return.
The Office of the Verkhovna Rada Commissioner for Human Rights provided Bohdan Yermokhin with accommodation.
The lawyer mentioned that Ukraine's Education Ministry was waiting for Bohdan's return to retrieve his educational certificates, as the Mariupol-based archives had been destroyed. In the near future, Yermokhin is planning to resume studies, so that he does not have to skip an academic year.
According to Bobrovska, prior to the Russian invasion, Bohdan used to study at Mariupol-based metallurgical vocational school No. 99.
"Bohdan Yermokhin's story is fantastic, as if you are living in a movie. Fighting for your return in a country that is the aggressor state is very difficult. The fact that he has endured indicates that he is a hero to a certain extent," Bobrovska said.
She shared some of the most terrible episodes from Bohdan's life as the war started.
During shelling in Mariupol, he was saved by a close friend who had shielded him with his body.
Bohdan also witnessed the death of a 10-year-old girl, whom he had found seriously injured near the corpse of her mother, as he was delivering water to local residents in the city.
After being forcibly taken from Mariupol to Russia, Yermokhin made an unsuccessful attempt to cross the Belarusian border. Later, he sent a letter to Verkhovna Rada Commissioner for Human Rights Dmytro Lubinets. Ukraine's ombudsman tried to contact Russia's commissioner for human rights Tatyana Moskalkova in that regard, but his efforts went in vain.
A reminder that Bohdan Yermokhin is an orphan from the Donetsk region's temporarily occupied city of Mariupol, who had been illegally deported by Russian occupiers to the territory of Russia. There, Bohdan was forced to obtain a Russian passport and was handed a military draft notice, as he was turning 18 years old on November 19.