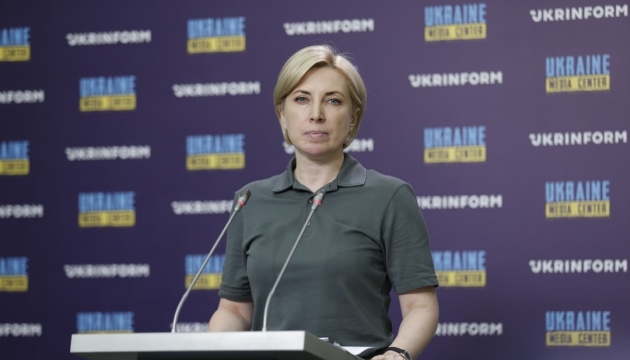 Russia's call on evacuees from occupied areas to return "trap" - minister
Deputy Prime Minister - Minister for Reintegration of Temporarily Occupied Territories Iryna Vereshchuk says Russia's appeals to residents of the temporarily occupied areas, who have fled their homes, to return is in fact a trap.
That's according to the Reintegration Ministry's press service, Ukrinform reports.
"Don't trust the appeals and threats voiced by the occupiers. It's a trap. Their task is to do whatever to make people come back. They need 'media coverage' for their farcical attempts. Just wait for de-occupation – it won't take long. Don't put yourself and your family at risk!" Vereshchuk urged the Ukrainians in question.
The ministry clarified that, according to the General Staff of the Armed Forces of Ukraine, the Russians are currently calling on Ukrainians who have already evacuated the temporarily occupied areas of Kharkiv, Donetsk, Zaporizhia, and Kherson regions to return home as soon as possible, and that the deadline has been set for October 1.
It is clarified that the Russian Federation is preparing the so-called referenda in these areas, now trying to create the appearance of a large "turnout."
"People are being intimidated and blackmailed by real estate and other property seizure. It is worth keeping in mind that this is an act of provocation. At the same time, returning to the temporarily occupied areas poses an immediate threat to life and bears a major risk of never being able to make it out of there," the statement stressed.
As reported, Iryna Vereshchuk will lead the coordination headquarters for de-occupied territories.