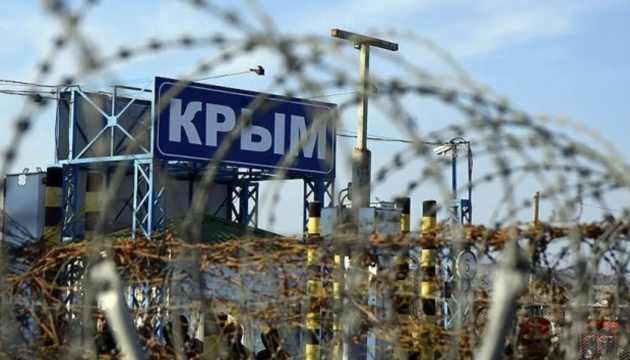 In occupied Crimea, invaders abduct 20-year-old Crimean Tatar man
In Crimea, Russian occupation authorities abducted Appaz Kurtamet, 20, a resident of Kherson region's Novooleksiiivka village. His whereabouts have been unknown for the past three weeks.
That's according to the Head of the Mejlis of the Crimean Tatar people, Refat Chubarov, who reported the news via Telegram, as seen by Ukrinform.
"It's been 22 days since there has been no news about Appaz Kurtamet, a citizen of Ukraine, a resident of the village of Novooleksiiivka, Henichesk district, Kherson region, born in 2002, a Crimean Tatar," wrote Chubarov.
On July 23, 2022, Appaz Kurtamet left the village of Novooleksiiivka for Crimea to visit his family. It is known that he arrived at the checkpoint, still operating on the Crimean side of the administrative line between occupied peninsula and mainland Kherson region. From there, the family lost contact with the man, Chubarov reported.
The next day, on July 24, Kurtamet's mother received a phone call from an unidentified person, who informed her (allegedly at the man's request) that his son had been detained during an ID check at the Chonhar checkpoint.
Multiple attempts by the mother to find out the whereabouts of her son yielded no results. At the same time, the incoming reports are extremely contradictory. Thus, various informal channels report that Appaz is being held in the Simferopol pre-trial detention center, but the administration of the said facility claim they have no such person held there. The "administration of the Russian FSB in the Republic of Crimea and the city of Sevastopol" have also denied any involvement in the man's disappearance.
"We have every reason to state that a citizen of Ukraine, Appaz Kurtamet, 20, was detained on July 23, 2022, at the Chonhar checkpoint and has been illegally held in custody by the FSB of the Russian Federation since July 24, 2022. At the same time, the criminal nondisclosure of Apaz Kurtamet's location by FSB operatives from his mother and other relatives for the past 22 days testifies to an unprecedented pressure being exerted on the young man with a purpose known only to the Russian security services," Chubarov noted.
The official said that he made public the information about the missing young man after his relatives submitted a wanted report to the occupying forces' police in Crimea. Chubarov noted that in the conditions of the occupation of Crimea, and now the capture of parts of Kherson and Zaporizhia regions by the Russian military, publicity about the crimes committed against individuals is the only way to protect the lives of people who are now under the power of the Russian occupiers.
Chubarov also published Appaz Kurtamet's photo.
As Ukrinform reported earlier, Russian aggressors are blocking evacuation corridors and abducting residents of Kherson region.