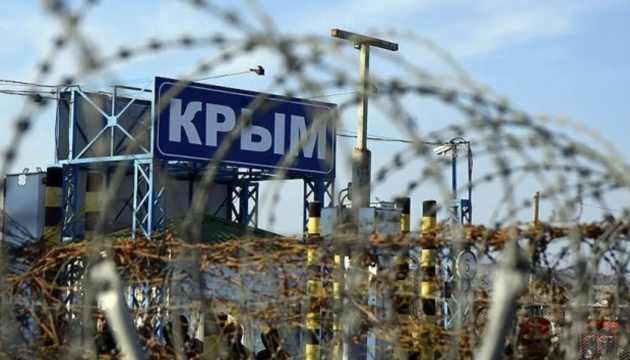 In occupied Crimea, 11 journalists subjected to political persecution
Eleven journalists in the Russian-occupied Crimea are being politically persecuted by Russian-imposed "authorities," a watchdog says.
The KrymSOS NGO has issued the relevant report, referring to its analyst Eugene Yaroshenko, as seen by Ukrinform.
"Here comes another wave of raids that usually happen once every six months. As a rule, Crimean Tatars are accused of involvement in a terrorist organization. Citizen journalists and activists often become victims of searches and detentions. Currently, 11 Crimean citizen journalists are being persecuted by the occupation authorities," Yaroshenko said.
It is noted that on August 11, eight raids were conducted in the temporarily occupied Crimea, amid which six Crimean Tatars were detained under Article 205.5 of the Criminal Code of the Russian Federation ("Organization of the activities of a terrorist organization and participation in the activities of such an organization."
Citizen journalist Vilen Temeryanov and activist Enver Krosh are among those detained. This is not the first time these men are arrested. Temeryanov has been detained twice, last time being held in custody for several days in late 2021. Krosh said he had been tortured with an electric shocker while in captivity back in 2015, while in 2018 he was put in administrative custody, the report says.
KrymSOS says of 11 citizen journalists who are being persecuted by the invaders, 10 are Crimean Tatars, and another person is Iryna Danylovych.
As reported by Ukrinform, Crimean Tatar Enver Krosh was beaten for one and a half hours by an FSB operative on August 11.
On this day, Crimean Tatar Muslim activists were searched in Dzhankoy and the town suburbs. As a result, six persons were detained, including Enver Krosh, Vilen Temeryanov, Seityaga Abbozov, Murat Mustafayev, Edem Bekirov and Rinat Aliyev. Terrorism charges have been pressed against them.
Crimean citizen journalist and medic Iryna Danylovych, abducted back in April, reported on the occupiers' aggressive attitude and physical abuse by the FSB operatives.
The Ukrainian President's Representative for the Autonomous Republic of Crimea, Tamila Tasheva, said that, after 2015, a concept of citizen journalism became widespread in occupied Crimea after all independent media were forced to shut down in the area. Those who previously had nothing to do with journalism: they simply pick up their phones and film what's happening on the territory of Crimea.