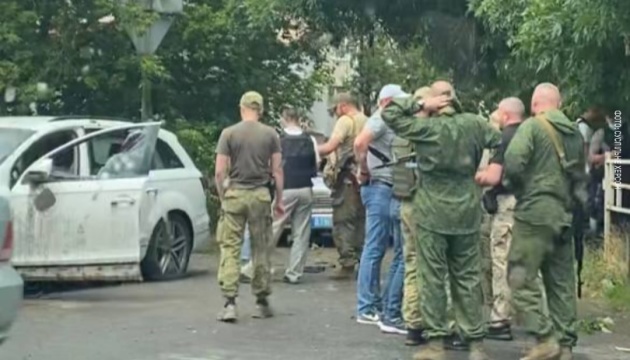 In Kherson region, invaders were unable to hire enough locals to form "police" force
The Russian occupation forces in Kherson region have not succeeded in setting up a police unit made up of local inhabitants. Therefore they were forced to bring in cadres from the so-called "LPR" and "DPR," the internationally unrecognized Russian puppet entities in eastern Ukraine.
That's according to Yuriy Sobolevskyi, First Deputy Chairman of the Kherson Regional Council, who spoke at the national telethon, Ukrinform reports.
"Actually, the number (of law enforcers who flipped to the enemy side) is very small. That is why, in the last week or so, we have plenty of 'police' arriving from the so-called 'DPR' to serve in Kherson. They (invaders - ed.) were unable to form their so-called local 'police,' being forced to recruit "LPR" and "DPR" cadres," noted Sobolevskyi.
He also reported that "police" cars from the so-called "LPR" and "DPR" had been spotted in Kherson. Sobolevskyi posted the relevant photos and called on the local population to keep away from the newcomers.
As reported by Ukrinform, criminal proceedings have been initiated following the death of Oleh Khudiakov, the former official with the Ukrainian police department in Kherson region. According to local media, Khudyakov committed suicide after being kidnapped by Russian invaders. It is assumed he was forced to cooperate but chose not to agree.
Meanwhile, in Nova Kakhovka, Serhiy Tomka a former police officer who did agree to cooperate with the invaders, was killed.
Photo: Suspilne Kherson