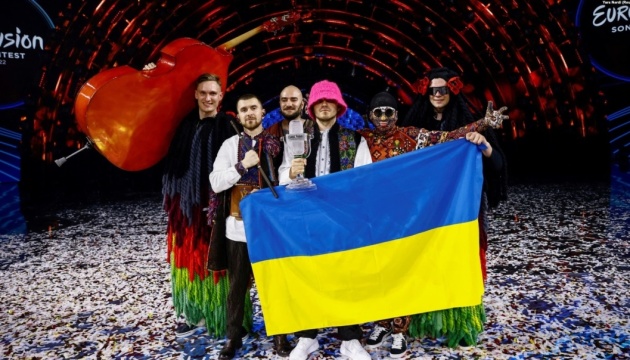 Eurovision winners Kalush Orchestra to auction off award to help Ukraine's Army
The winners of the Eurovision 2022, Kalush Orchestra of Ukraine, decided to set up an auction to sell the award they had received to further donate the money to a charity fund help the military and Ukraine.
This was announced during a zoom briefing by the band's leader Oleh Psiuk, an Ukrinform correspondent reports.
"We plan to put our statuette up for auction and donate all the money to a charity fund that helps the Armed Forces and Ukraine. We are still to select one. See, many people are already donating from abroad, and perhaps many more would like to donate. And this, in our opinion, will be the thing that motivates them. We think it will be beneficial for Ukraine," Psiuk said.
Regarding the choice of the auction platform and the amount the band seek to raise, Psiuk said it would be decided in the near future.
"I'd like to see a hefty sum but I don't want to name any numbers. We'll see," the band leader added.
Also during the zoom briefing, the Kalush Orchestra thanked everyone for the support their team felt, both among the contestants and during a televote.
"I'd like to express my gratitude to all the people who supported us – Ukrainians, the diaspora, and citizens of other countries. This is a very important step and victory for Ukraine now. I'm happy that I was able to convey such good news as there's not so many of them, and I can already see how it encouraged all our people, so I'm glad to realize that all these efforts weren't in vain," Psiuk said.
As Ukrinform reported earlier, the Ukrainian band Kalush Orchestra won Eurovision 2022.