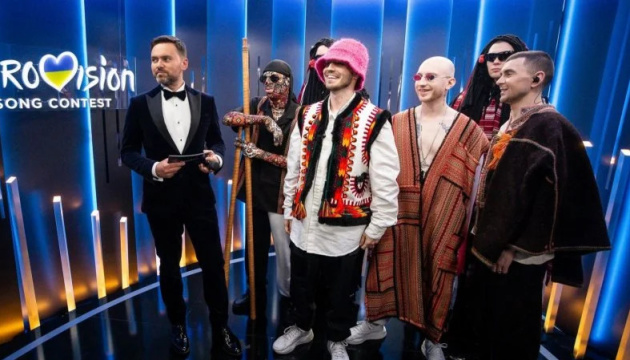 Kalush on Eurovision stage: 'Help Ukraine, Mariupol, help Azovstal! Right now!'
Having performed in the grand final of the Eurovision Song Contest 2022, Ukrainian ethno-folk band Kalush Orchestra called on the whole world to help the Ukrainian defenders blocked in Mariupol.
"Save Mariupol, save Azovstal right now!" said frontman Oleh Psiuk on the Eurovision stage in Turin.
🇺🇦⚡️ «Save Mariupol, save Azovstal now!» — Олег Псюк з Kalush Orchestra після виступу на Євробаченні-2022 закликав врятувати Маріуполь та Азовсталь pic.twitter.com/qIg2BLLXJr

— Ukrinform (@UKRINFORM) May 14, 2022
Earlier, Kalush band was asked to draw public attention at Eurovision 2022 to the situation in Mariupol and the Azovstal plant. In particular, Otoy, rapper from Lviv, whose brother is considered missing on Azovstal, and singer Alina Pash made such a request.
One can vote for Ukraine by sending SMS-message with number "12" to 7576.
ol