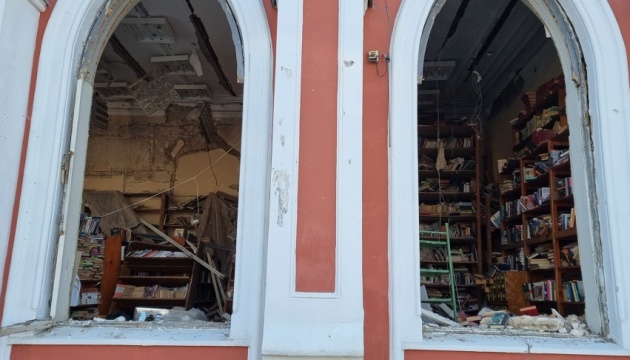 Foreign partners can help Ukraine with restoring libraries affected by war - MP
International partners could help restore damaged and destroyed libraries across Ukraine through various projects.
That's according to a Deputy Chair of the Verkhovna Rada Committee on Humanitarian and Information Policy Yevhenia Kravchuk, who spoke on Friday at a round table in Ukrinform on the topic: "Assistance to affected librarians and libraries due to the full-scale Russian invasion of Ukraine."
"It is important to focus on two areas – assistance to libraries, including international ones, working in the west and in the center of Ukraine, where their services are in great demand. The second direction is the restoration of library buildings. Now we have a wide range of inter-parliamentary ties, our communication with embassies and municipalities. There is a desire of some municipalities to either personally deal with some specific facilities or do so in partnership with a specific community. This is possible both for the areas in the rear and for those that were occupied until recently and now need to be rebuilt," said Kravchuk.
The lawmaker said that she had a conversation with representatives of the British Embassy about the library in Chernihiv, which is also an architectural monument. "And such things, I hope, will draw attention to the problem. There are both individuals and foundations that are ready to help," the deputy said.
Kravchuk added that another option could be cooperation on a regional scale.
"There are statements by some countries that are ready to take over the restoration of specific areas. In the case of Great Britain, it's Kyiv region. And if there is already a specific request for the restoration of libraries that were damaged or destroyed, we can already do so. Estonia has already stated that it can work to restore the ones in Zhytomyr region. And so each region can have a donor nation, "she suggested.
The MP stressed that after restoration of libraries in areas that were not occupied or liberated, the third stage will start.
"We will add the libraries to which we have no access at all. These are in Donetsk region, Luhansk region, now Kherson region, and part of Zaporizhia region," Kravchuk said.
Photo: Viacheslav Chaus, Facebook