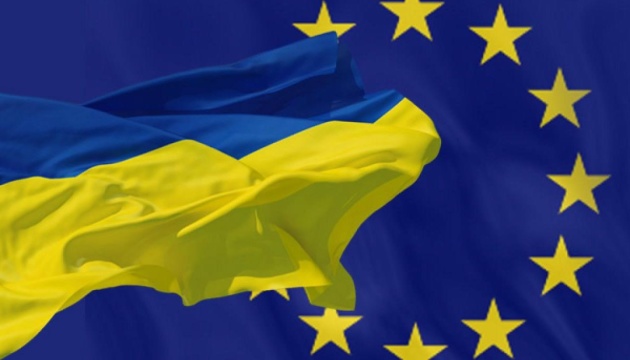 Over 60% support idea of Ukraine's accession to EU
Some 64% of respondents support Ukraine's accession to the EU, and 54% of Ukrainians want their country to be part of NATO, according to a survey conducted by the Rating sociological group.
The results of the study were presented at a press conference on Thursday, August 19, according to an Ukrinform correspondent.
"The dominant foreign policy vector in Ukraine is European and Euro-Atlantic integration. In all questions concerning the views on Ukraine's future on the international stage, at least half of those polled confirmed their pro-Western aspirations. In particular, 64% are in favour of [Ukraine's] accession to the EU and 54% support its accession to NATO. Most of those who support Ukraine's European future are the youngest people (16-24 years old): 66% of them are in favour of [Ukraine's] joining NATO, and 75% are in favour of it joining the EU. Even in the oldest categories, at least half of the respondents back Ukraine's movement in the western direction," the study revealed.
In general, 80% of respondents would support the proclamation of Ukraine's independence if this process took place today. Only 15% would not support the idea, and 5% were undecided. The highest level of support for Ukraine's Independence was recorded among respondents born after 1991 - 87%. There are also more pro-independence among residents of the western and central regions and among more well-off people. Despite the differences, at least two-thirds of each of the demographic groups would support Ukraine's declaration of independence today.
Some 75% of respondents identify themselves as Ukrainian citizens (11% do not), while 26% identify themselves as Europeans, and 21% see themselves as "Soviet people." Among the representatives of the independence generation, 86% identify themselves as citizens of Ukraine and 40% as Europeans. Older people consider themselves less European, but more often than others identify themselves as "Soviet people."
The relative majority of respondents (57%) said they were generally satisfied with their lives, 21% hold the opposite view, and 23% were neither happy nor unhappy with their lives.
The poll surveyed 20,000 Ukrainians aged 16 and older living in all regions, except for the temporarily occupied territories of Crimea and eastern Ukraine.
The poll's margin of error does not exceed 1% across Ukraine and 4% across a particular region.
op