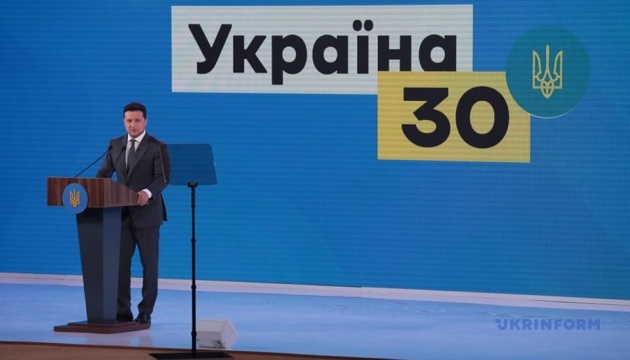 Ukraine as ready for new COVID-19 wave this fall as EU countries – Zelensky
Ukraine as ready for new COVID-19 wave this fall as EU countries – Zelensky
Ukraine has prepared to face a new wave of COVID-19 this fall at the level of other European countries.
The President of Ukraine Volodymyr Zelensky made the statement at a press conference within the framework of the Ukraine 30. Decentralization Forum in Kyiv on Wednesday, July 28, an Ukrinform correspondent reports.
"Are we preparing for the fall? I think we're ready. As for hospitals, in terms of the number of available beds, in terms of wages, oxygen, I think we're ready at the current level, at the level of other European countries, certainly not worse. As for oxygen in hospitals, we are better prepared than many other European countries," said Zelensky.
In some hospitals and communities, the president acknowledged, certain issues arise, but sometimes resolving them depends on the local staff.
Speaking about the miscalculations in the health care system in the issues of countering COVID-19 during the previous waves, the president noted problematic issues observed all over the world. "This is not a miscalculation of our health care system, it's just health care systems all over the world that weren't prepared for COVID, in any country, even where health care is the best," Zelensky said.
As Ukrinform reported earlier, Kyiv authorities have already said they are launching preparations for the third wave of the COVID-19 epidemic. In particular, Hanna Starostenko, deputy chief of the Kyiv City State Administration, said nearly 5,500 beds in the capital's medical facilities could be deployed to receive COVID-19 patients.
In the past 24 hours, 717 new active COVID-19 cases were reported in Ukraine.
im