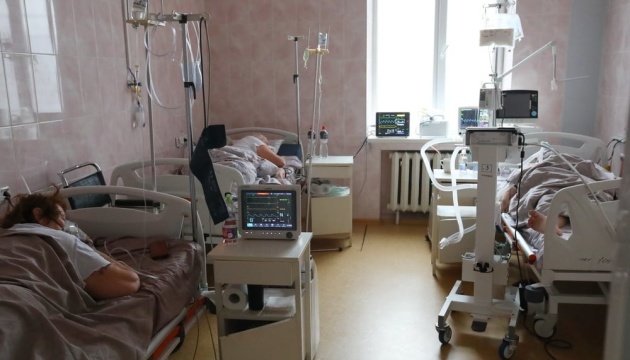 COVID-19 hospitalization rates exceeded in Kyiv and 21 regions – Ministry of Health
Kyiv city and 10 regions in Ukraine have been included in the red zone of the COVID-19 quarantine, Ukrinform reports with reference to data published on the Ukrainian Ministry of Health's website.
As of April 6, Kyiv city, Zhytomyr, Ivano-Frankivsk, Zakarpattia, Kyiv, Lviv, Mykolaiv, Odesa, Sumy, Chernihiv and Chernivtsi regions are in the red zone
The COVID-19-associated hospitalization rates (60 per 100,000 people) have been exceeded in Kyiv city and 21 regions, in particular Chernivtsi, Chernihiv, Cherkasy, Donetsk, Dnipropetrovsk, Ivano-Frankivsk, Kharkiv, Khmelnytskyi, Kyiv, Lviv, Mykolaiv, Odesa, Poltava, Rivne, Sumy, Ternopil, Vinnytsia, Volyn, Zaporizhzhia, Zhytomyr, and Zakarpattia regions.
As of April 5, the highest COVID-19-associated hospitalization rates were recorded in Khmelnytskyi region - 129.4 per 100,000, Vinnytsia region - 104.9, Zhytomyr region - 115.6, Mykolaiv region – 113.3, and Chernihiv region – 107.5. In Kyiv city, this rate amounted to 116.4.
The highest oxygen bed occupancy rates were registered in Kyiv city - 84.7%, Zhytomyr region - 75.9%, Kyiv region – 79.6%, Lviv region - 75.1%, and Mykolaiv region – 73.6%, Odesa region – 71%, Sumy region – 68.8%, and Khmelnytskyi region – 68.2% (with the established capacity set at 65%).
Ukraine has recorded 13,276 new coronavirus cases in the past 24 hours, bringing the total number of confirmed COVID-19 cases to 1,769,164.
iy