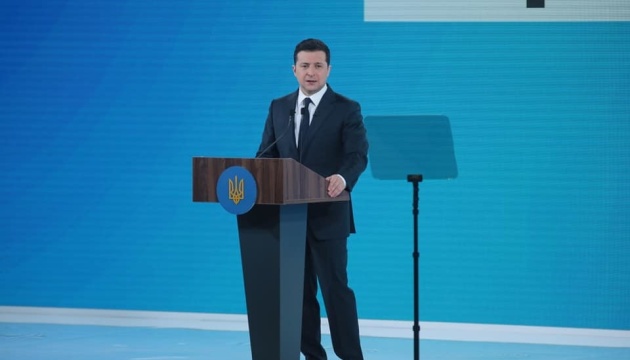 Main response to COVID-19 is vaccination, not lockdown - Zelensky
The issue of vaccination against COVID-19 in Ukraine and the situation with countering the spread of coronavirus have been discussed at a traditional conference call chaired by President Volodymyr Zelensky, the presidential press service has reported.
According to the report, Zelensky said that the pace of vaccination in Ukraine should be increased. To this end, he suggested involving mobile teams and resources from other agencies, not only from the Ministry of Health, and responding more carefully to cases of disinformation about vaccinations.
"The best response to today's increase in coronavirus infections is vaccination, not lockdown. This is the solution to preventing a greater increase in patients. We are approaching the middle of March, and we should provide more opportunities for people to receive the first doses of the vaccine, especially if they are working at the forefront of the fight against the coronavirus," Zelensky said.
Minister of Health Maksym Stepanov drew attention to the need for closer cooperation with the heads of regional state administrations. Interior Minister Arsen Avakov said that his agency had prepared 50 mobile teams to help conduct the vaccination.
According to Prime Minister Denys Shmyhal, the number of hospitalizations last week grew to almost 21,000 from 17,600 during the week before. Today, 29,573 beds are occupied. A total of 70,157 beds have been allocated for COVID-19 patients, including 60,000 beds with access to oxygen. The number of occupied beds in intensive care units has also increased - from 1,500 to 2,000. This means that the number of serious cases is growing, Shmyhal said.
"The adaptive quarantine is still in place in Ukraine. The red level has been introduced in regions with a significant spread of coronavirus disease. These are the Ivano-Frankivsk, Chernivtsi, Zakarpattia and Zhytomyr regions. Also, almost ten regions are in the orange zone and they are close to the red level," Shmyhal said.
op