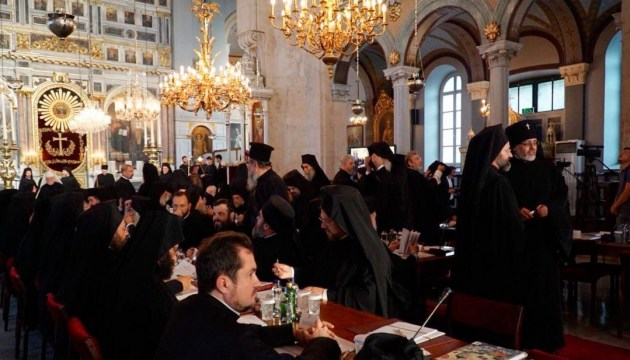 UOC-MP breaks Eucharistic communion with Ecumenical Patriarchate
The Ukrainian Orthodox Church of the Moscow Patriarchate (UOC-MP) has condemned the October 11 decision by the Holy Synod of the Ecumenical Patriarchate to establish the jurisdiction of the Ecumenical Patriarchate on Ukrainian territory and is severing Eucharistic communion with Constantinople.
The Council of Bishops of the UOC-MP made a respective decision on November 13.
"By taking such anti-canonical decisions and officially recognizing schismatics, the Patriarchate of Constantinople, according to the rules of the church, has itself chosen the path of schism. In view of this, Eucharistic communion of the Ukrainian Orthodox Church with the Patriarchate of Constantinople is currently impossible and is being severed," reads the decision.
At the same time, the UOC-MP believes that the October 11, 2018 decisions by the Synod of the Patriarchate of Constantinople regarding the Ukrainian church question "are null and void and have no canonical force."
In addition, the UOC-MP's Council of Bishops opposes a change in the name of the Ukrainian church at the legislative level.
"If the relevant bills are adopted by the Verkhovna Rada of Ukraine, the Ukrainian Orthodox Church will defend its rights by all legal means envisaged in the 'Fundamental Principles of the Social Concept of the Ukrainian Orthodox Church,' Ukrainian law and the European Convention on Human Rights," the bishops said.
On October 11, the Synod of the Ecumenical Patriarchate decided to grant a tomos (ordinance) of autocephaly to the Ukrainian Orthodox Church. Kyiv now has to convene an assembly involving the bishops of the Ukrainian Orthodox Church of the Kyiv Patriarchate, the Ukrainian Autocephalous Orthodox Church, and the Ukrainian Orthodox Church of the Moscow Patriarchate, who turned to the Ecumenical Patriarch with the request to grant the tomos. The assembly will carry out church unification, form a single local Ukrainian Orthodox Church, and elect its primate. After that, the head of the single local autocephalous Ukrainian Orthodox Church will receive the tomos as a document (letter).
President Petro Poroshenko and Ecumenical Patriarch Bartholomew signed an agreement on cooperation between Ukraine and the Ecumenical Patriarchate in Istanbul on November 3.
op