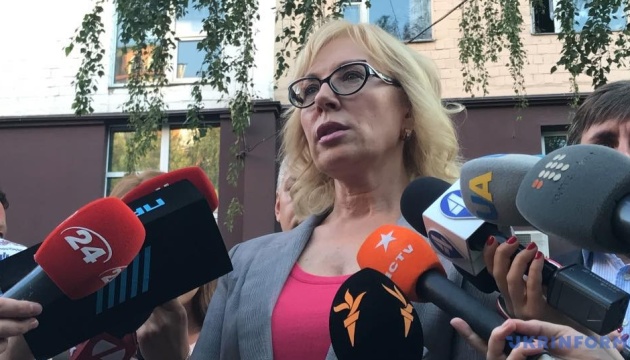 Twenty-two Russians convicted in Ukraine ask Putin for exchange
Twenty-two Russians imprisoned in Ukraine have written statements asking Russian President Vladimir Putin for their exchange for Ukrainian citizens held in Russian penitentiary institutions.
Ukrainian Verkhovna Rada Commissioner for Human Rights Liudmyla Denisova wrote this on her Facebook page on Thursday, August 16.
"Denisova has already received 22 statements addressing the Russian president with the request to return them to Russian territory through exchange for one of the Ukrainian political prisoners," according to the official website of the Ukrainian ombudsman.
According to the report, on Tuesday, August 14, during a monitoring visit to the Lukianivka pre-trial detention center in Kyiv, Denisova met with Alexander Sattarov and Farukh Kamalov, who wrote statements to the Russian president for the exchange. Earlier, such a statement was filed by Russian citizen Alexei Sedikov, who is serving a prison term for terrorism in the Bucha penal colony.
On Wednesday, August 15, during monitoring visits to penal colonies, the ombudsman received applications from Vyacheslav Vysotsky (Cherkasy penal colony No. 62), Valery Ivanov and Alexander Valekhidis (Drohobych penal colony No. 40) , Vladislav Grechin (Odesa penitentiary institution No. 21), Viktor Ageev (Romny penal colony No. 56), Oleg Doronin (Horodyshche penal colony No. 96), Denis Sidorov and Yevgeny Shatalov (Zhytomyr penitentiary institution No. 8).
A report on the website says that statements to the Russian president continued to come on Thursday. Thus, representatives of the human rights commissioner received such documents from Ruslan Dadzhiyev, Igor Kimakovsky (Bakhmut penitentiary institution No. 6), Evgeny Mefedov (Mykolaiv pre-trial detention center), Pavel Chernykh, Anatoly Busygin, Alexei Shibaev, Sergei Egorov and Olga Kovalis (Mariupol pre-trial detention center), Vasily Kusakin and Valery Gratov (Dnipro penitentiary institution No. 4) and Murat Dzhimiev (Kyiv pre-trial detention center).
The ombudsman's office says that all these 22 statements will be sent by the Ministry of Foreign Affairs of Ukraine to the Russian presidential administration by diplomatic mail.
Denisova stressed that Ukraine had long initiated an exchange and submitted respective lists to Russia. However, there is still no response from Russia's representative in the Trilateral Contact Group Boris Gryzlov and Russian ombudsman Tatyana Moskalkova, to whom letters on a possible exchange were sent on July 5.
In general, there are about 70 Ukrainian political prisoners held in Russia and in Russian-occupied Crimea. Among them is Ukrinform journalist Roman Sushchenko, who was sentenced to 12 years in prison by the Russian regime for alleged espionage.